By Julia Diana Robertson and Claudia Lucas Robertson
*Scroll down for Updates
Last year, Decaudin got the NY State Democratic Party to dismantle the "one male, one female" rule from Democratic State Committees— A rule the women's suffrage movement fought to establish in order to guarantee females an equal seat at the Democratic table. Decaudin is now running for 37th AD "Female State Committee Member" and "Female District Leader" 37A, as a newcomer to Queens County, alongside Jesse Laymon, who is running for Male District Leader 37A.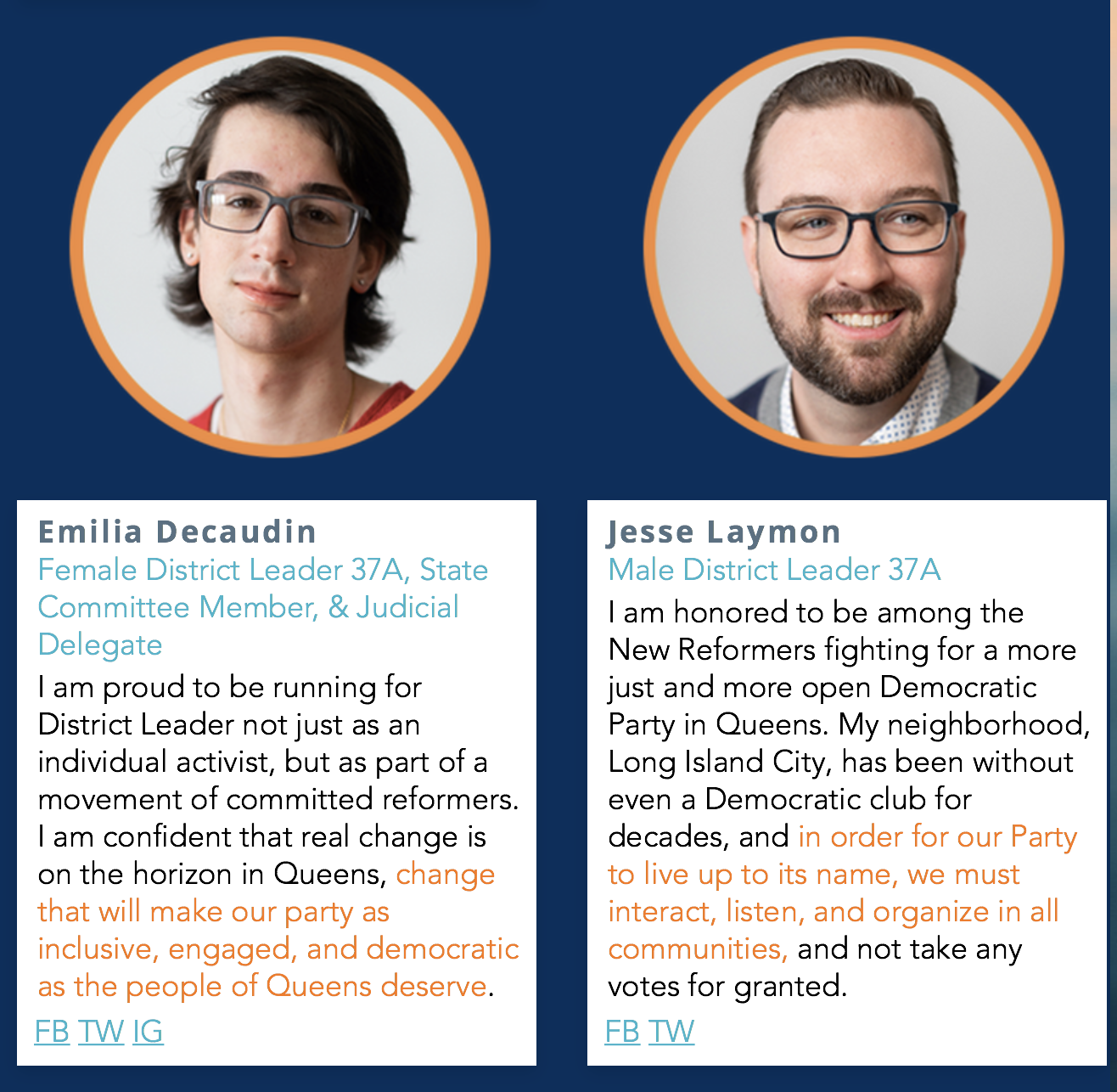 Decaudin is running against Corinne Haynes-Wood for Democratic State Committee Member 37th AD, and Deirdre A. Feerick (the current District Leader) for District Leader 37A.
Corinne Haynes-Wood and running mate, Andre Stith, were both born and raised in Queens. Haynes-Wood and Stith are running for the female and male State Committee Members (37th AD), respectively.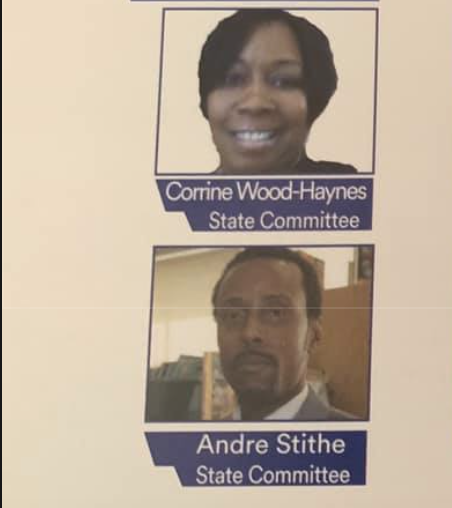 While New York state was in quarantine, NY Governor, Andrew Cuomo (D), changed the laws around how many signatures were required in order to run.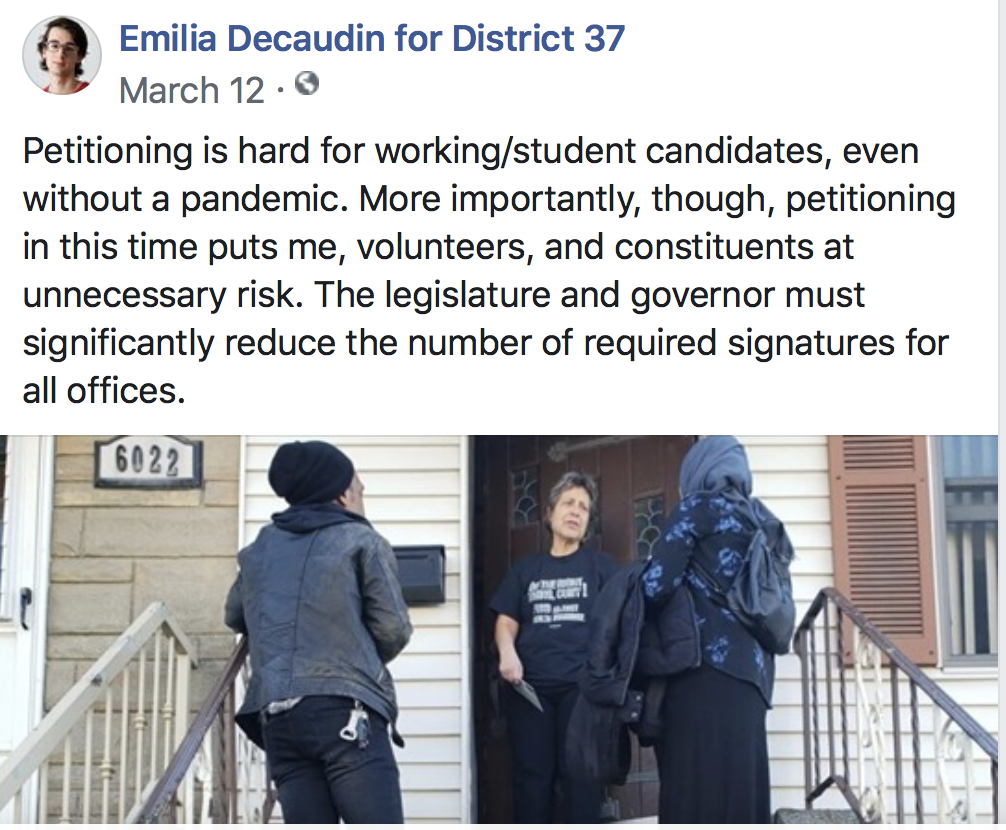 "Petitioning is hard . . . The legislature and governor must significantly reduce the number of required signatures for all offices."

— Emilia Decaudin, March 12
On March 14, Cuomo signed an Executive Order, modifying article 6 of the election law, reducing the required number of signatures on petitions "to 1.5% of the registered voters required, or 30% of the stated threshold, whichever is less."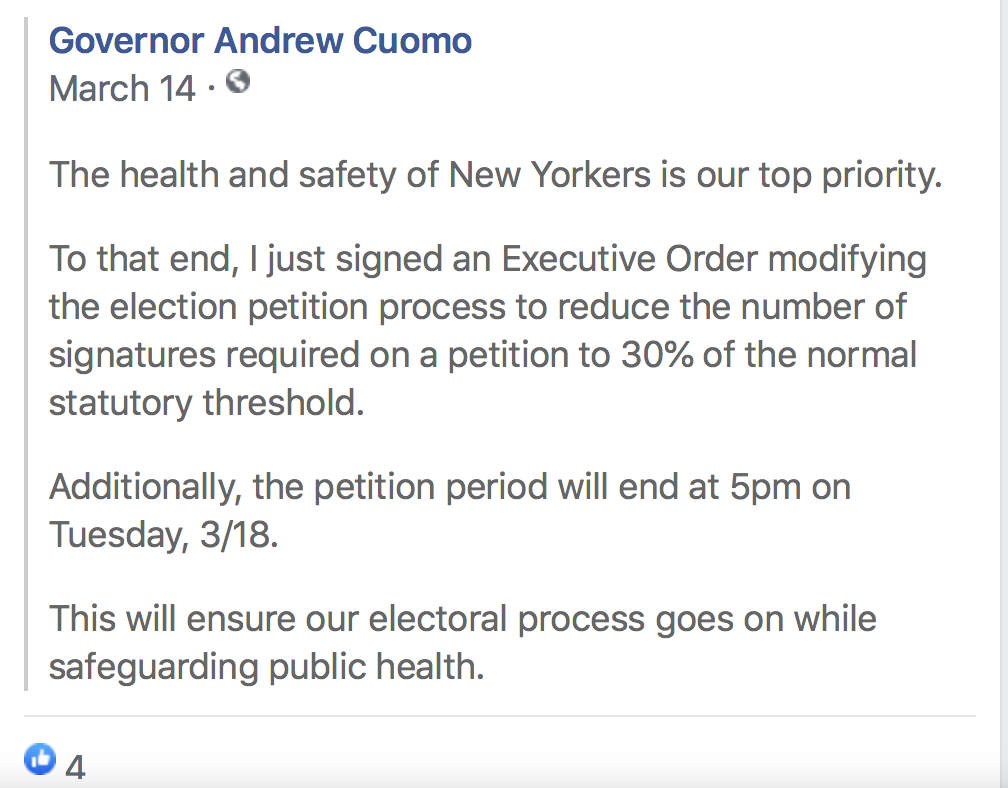 In 2019, after explaining the changes that came with the amended resolution of the "one male, one female rule," Samy Nemir-Olivares, policy advisor to the Community Education Council for District 32, said, "The resolution would NOT affect the gender parity of (half of the seats reserved for women) outlined for elected office seats such as District Leaders. This would only apply to State Committee members…" To which Decaudin responded, "We're coming for District Leader and County Committee next, though. [cool face emoji]…"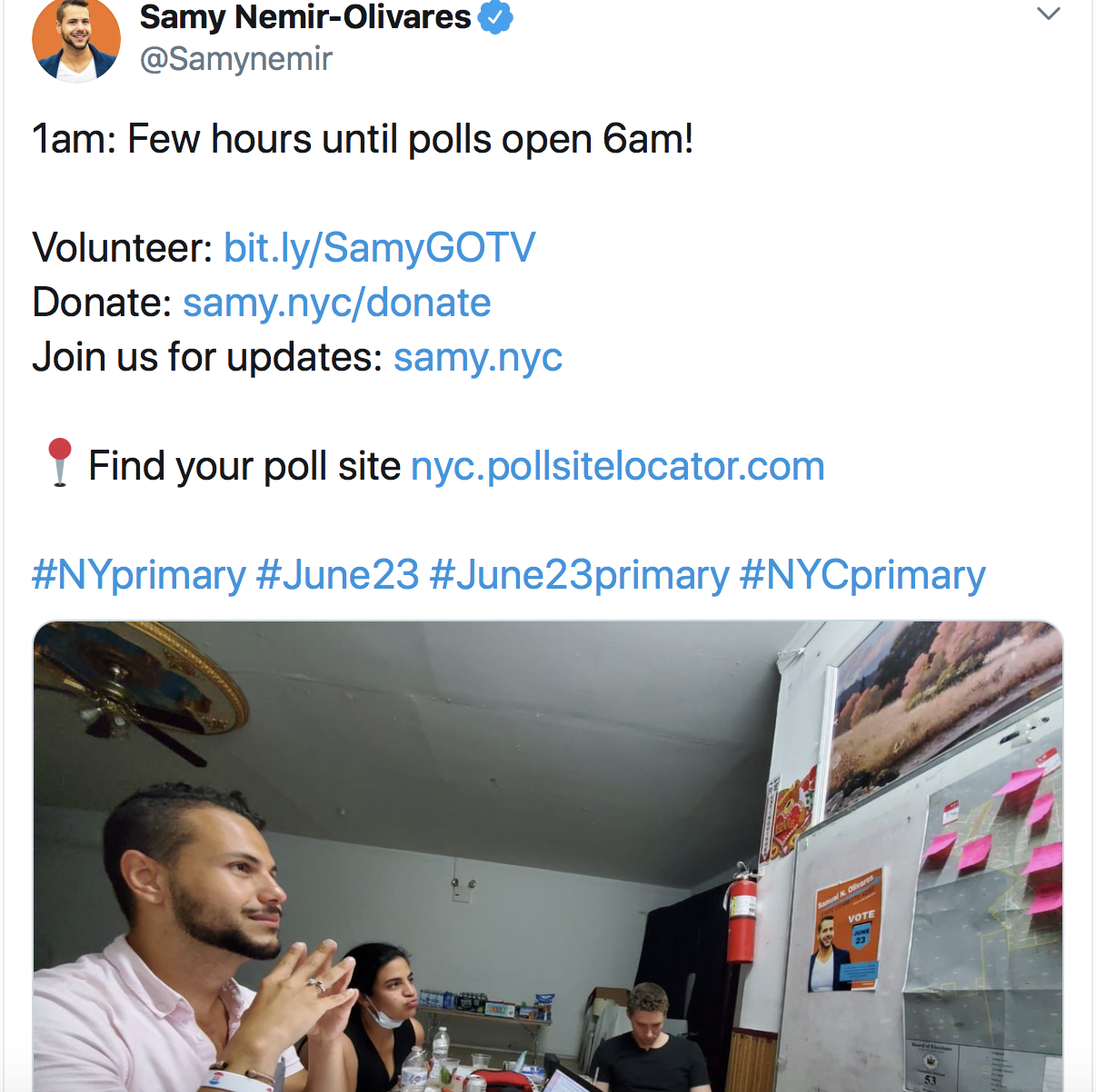 And that's exactly what's happening now — Decaudin is in fact running for "Female District Leader," as well as "Female State Committee Member," in the election taking place on June 23.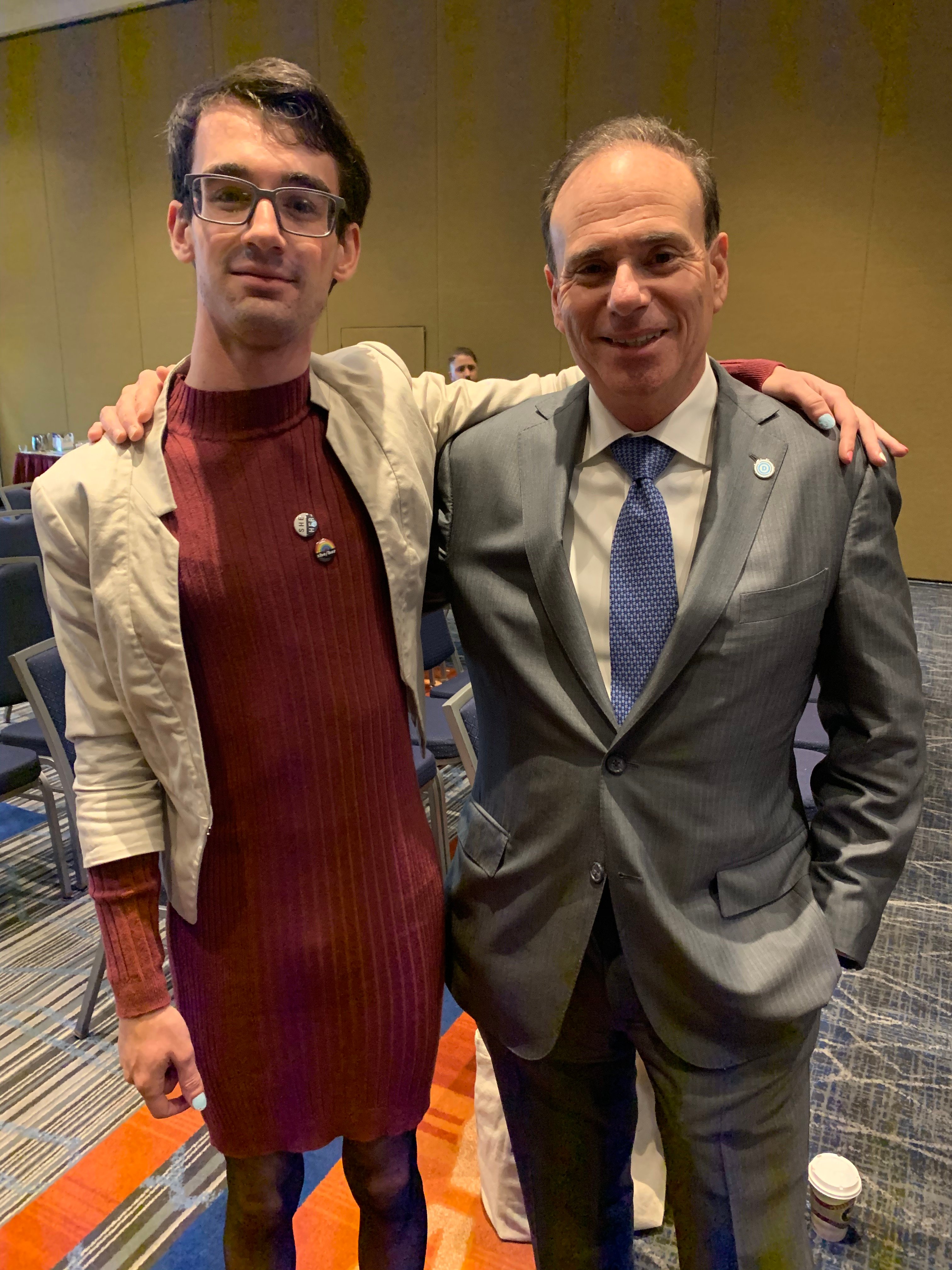 Decaudin says, "Sunnyside and Astoria deserve representation to the Queens County Democratic Committee that will… Promote the inclusion and engagement of… people of color… who are often overlooked and ignored."
Decaudin, who was born and raised in Westchester County, is running against Corinne Haynes-Wood, a "life-long resident of Queensbridge Houses" — An educator with over 25 years of experience serving her community in Queens.
Andre Stith, running alongside Haynes-Woods, grew up in the Astoria Houses. The Queens Ledger writes, "Growing up in the Astoria Houses, Andre Stith knew everybody. He knew all of the kids who grew up in the public housing development, and even their parents."
Both Queensbridge Houses and Astoria Houses are public housing. In NY, public housing is more commonly known as "the projects."
Decaudin further stated that residents in Queens deserve someone who will "Fight for a transparent and democratic county party."
When Decaudin successfully pushed to dismantle the "one male, one female" rule, only a couple of sites covered the changes, after the fact, introducing the changes with buzzwords like "inclusion." The bylaws were quietly updated on the NY Democratic Committee website in a document dated November 15, 2019.
On October 26, 2019, after lesbian, bi and straight women voiced their concerns over the erasure of 'sex' as a protected class in law, Decaudin, who claims to be "an advocate for issues facing the queer community," responded with abusive misogynistic commands, such as, "suck my girldick." Decaudin, an elected official, has deleted the original Facebook page and has put the original Twitter page on private.
While it was announced that the changes would not go into effect until after the June 2020 Democratic primary elections, both representatives for District 94 (in Westchester County), Decaudin and Christine Robbins, had their "gender" listed as "female"—a breach which doesn't appear to have been addressed.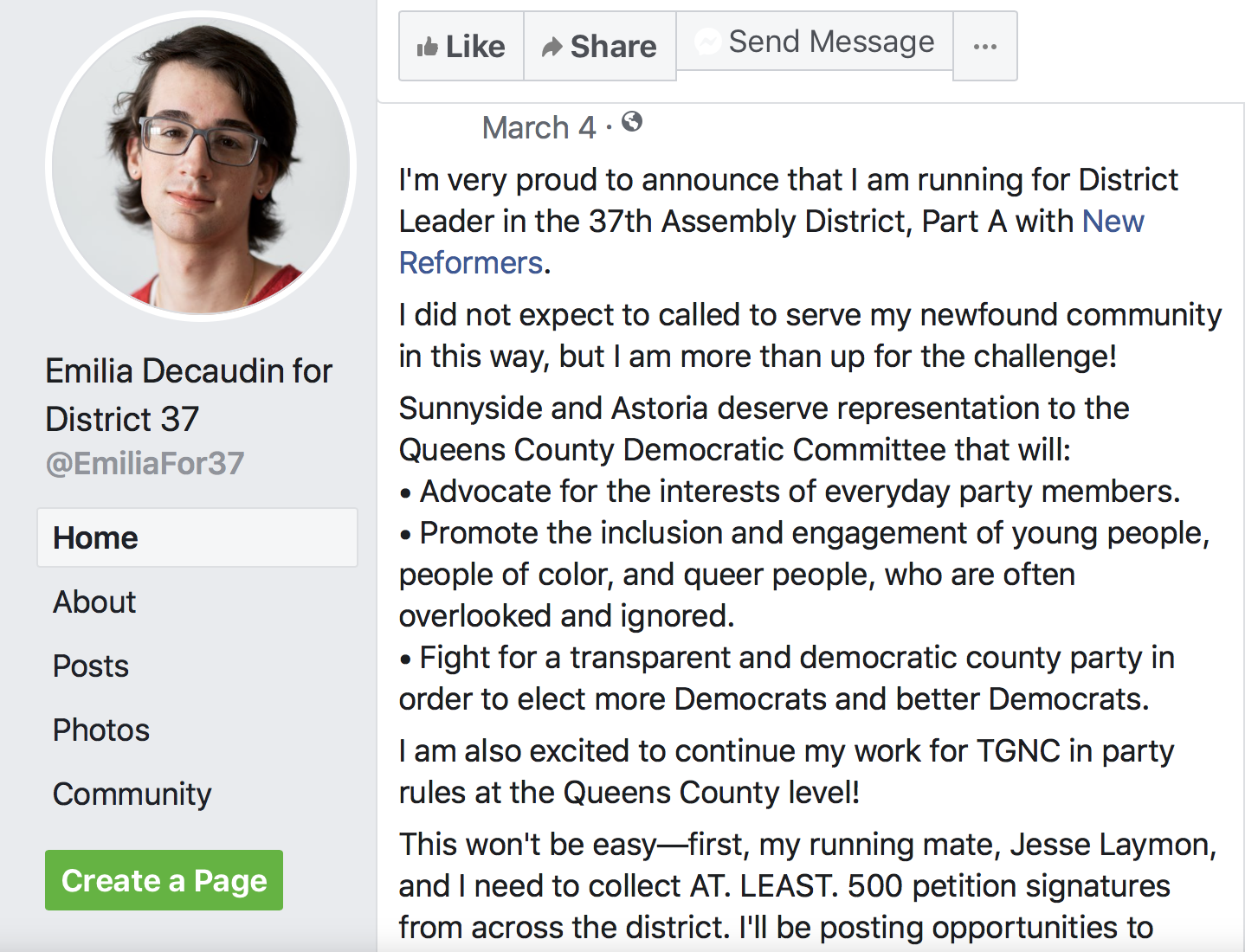 On March 4, Decaudin said, "I'm very proud to announce that I am running for District Leader in the 37th Assembly District, Part A with New Reformers." On running as a newcomer to Queens County, Decaudin writes, "I did not expect to called to serve my newfound community in this way, but I am more than up for the challenge!"
"This won't be easy—first, my running mate, Jesse Laymon, and I need to collect AT. LEAST. 500 petition signatures from across the district. I'll be posting opportunities to volunteer and contribute soon; in the meantime, thank you everyone for your friendship and support over the years, I look forward to continuing the fight for a progressive future here in Western Queens!" —Decaudin, Facebook, March 4
Just ten days after that announcement, Decaudin was thanking Governor Cuomo for reducing the number of signatures required to run.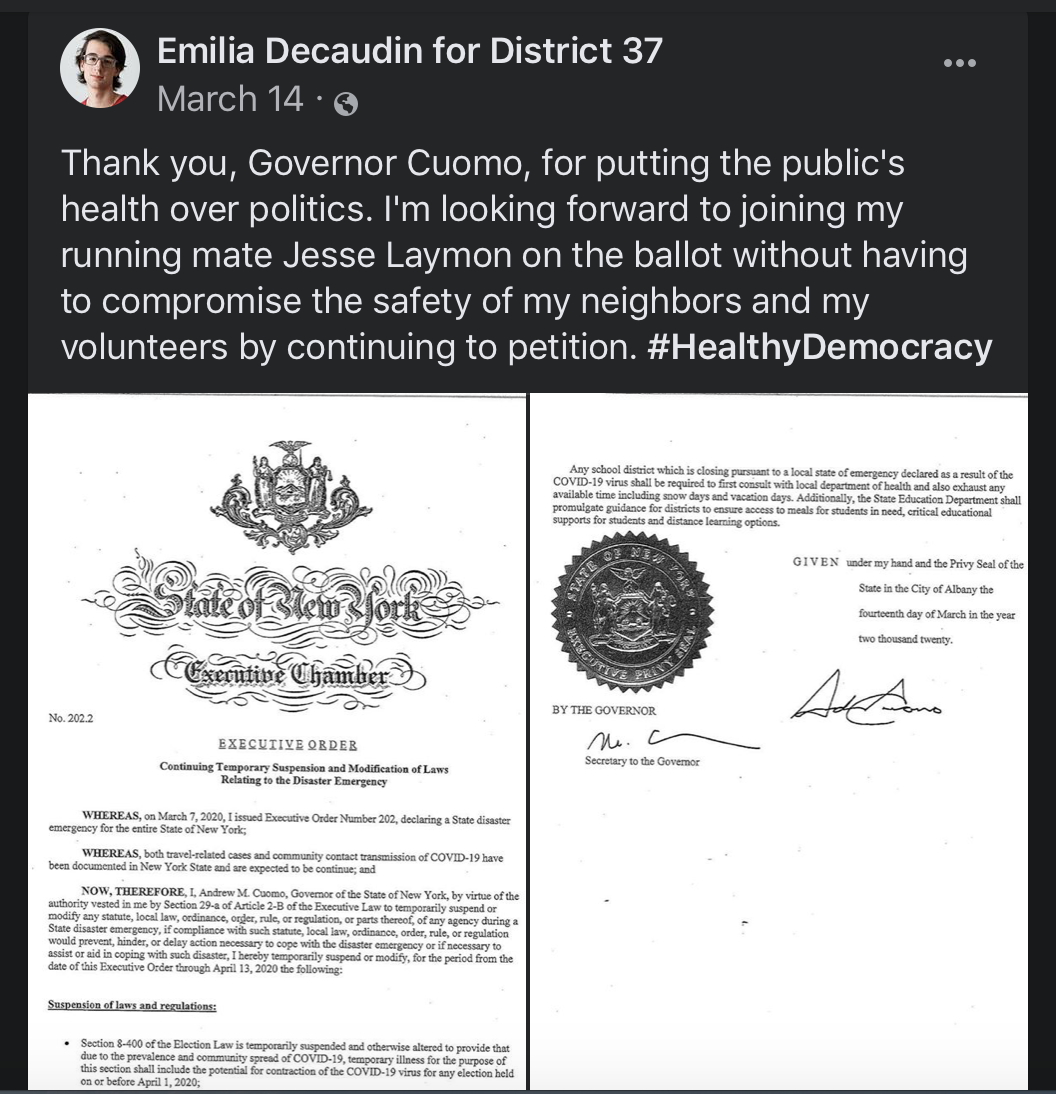 Council Member Costa Constantinides, who is currently running for Queens Borough President, is among those who've endorsed Decaudin's campaign.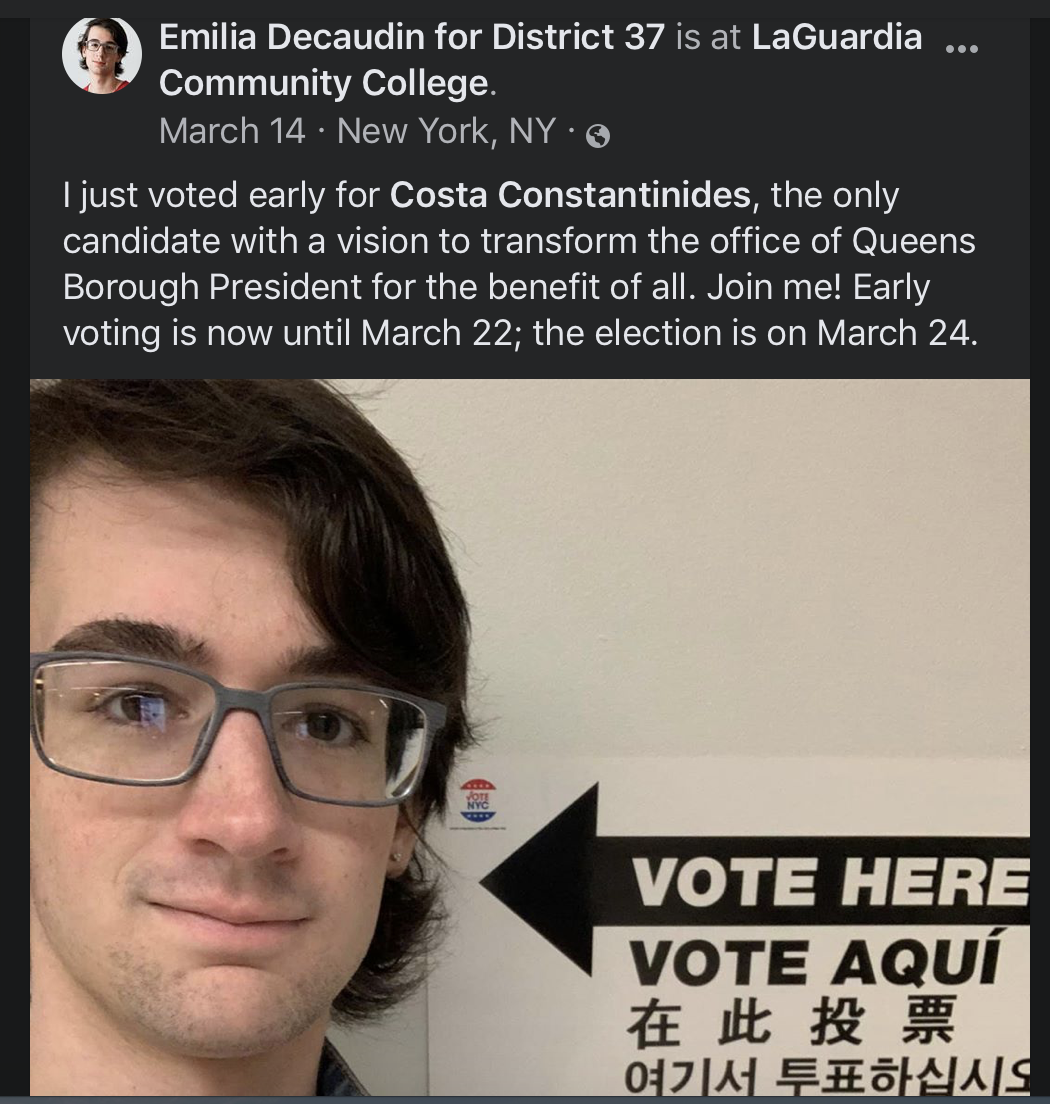 Decaudin, who identifies as a "lesbian," was also happy to lock in endorsements from Stonewall Democrats of NYC and Jim Owles Liberal Democratic Club.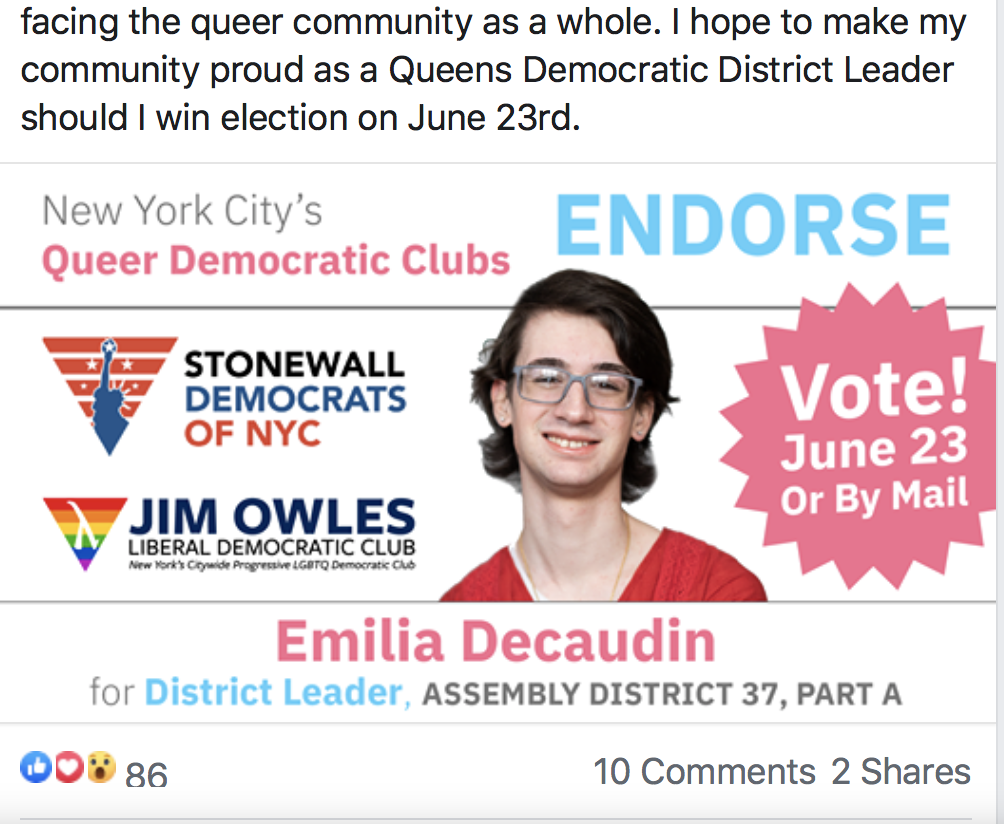 On June 1, Decaudin wrote, "I am very honored to announce that my campaign for District Leader has been endorsed by Stonewall Democrats NYC and the Jim Owles Liberal Democratic Club, the two citywide queer Democratic clubs in New York… Getting their support means the world to me both as a trans woman and as an advocate for issues facing the queer community as a whole. I hope to make my community proud as a Queens Democratic district leader should I win election on June 23rd."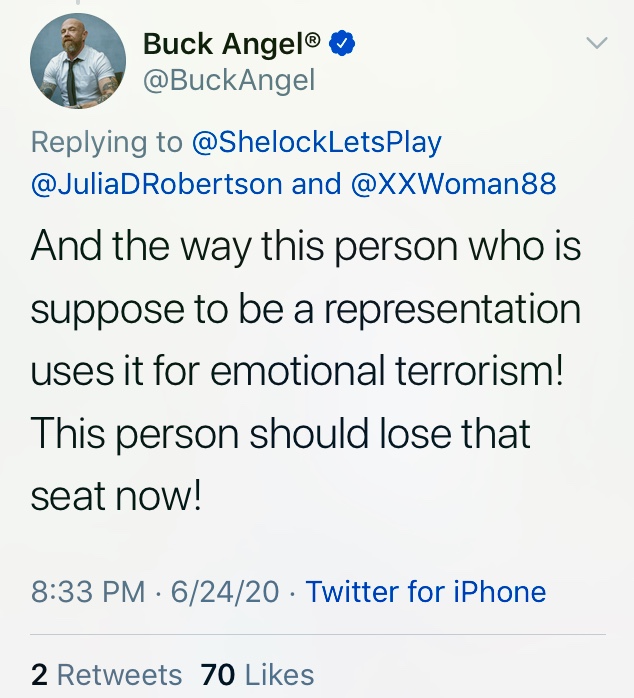 Decaudin has also been endorsed by Deputy Leader of the New York City Council, Jimmy Van Bramer (D), Council Member for the 26th District, which includes Astoria, Long Island City, Sunnyside, and Woodside in Queens.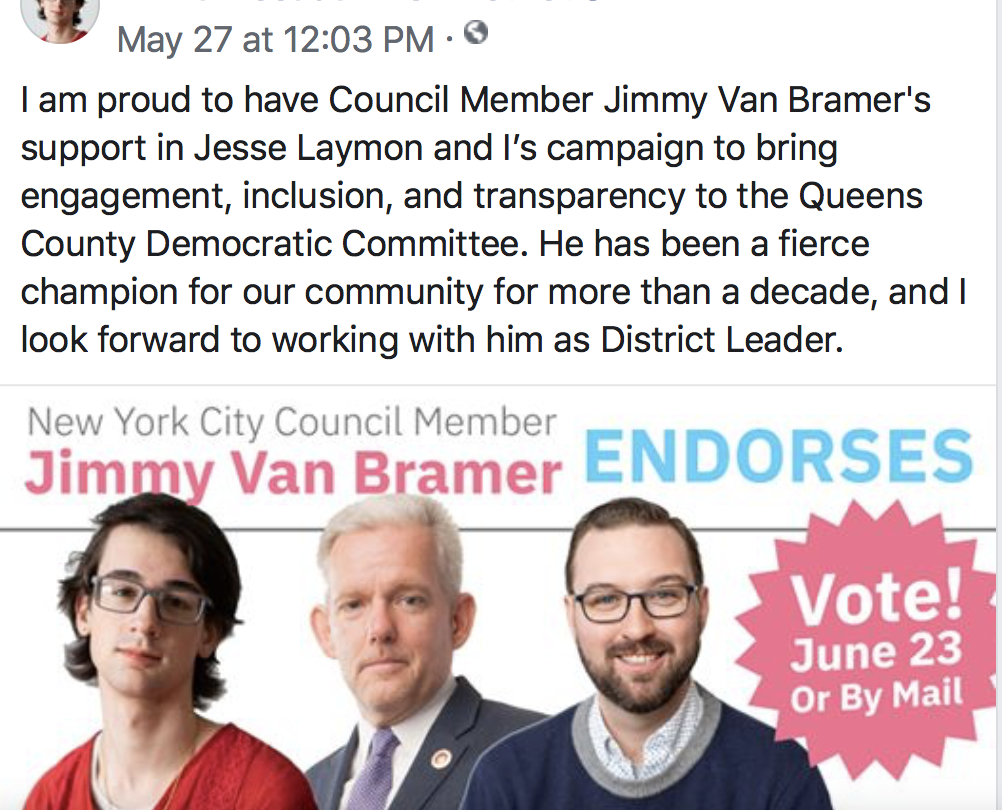 "For nearly 100 years, Democrats in the State of New York have elected one man and one woman per Assembly District to serve in the Democratic Party's governing body, the State Committee. A rule change passed last month means that after 2020, this will no longer be the case."

—Decaudin, December 2019, "Toward a Binary Free NYC," Gotham Gazette
Decaudin's group, Binary Free NYC, is working to dismantle the "one male, one female" rule throughout the state. On April 22, 6 people who refused to check either the male or female box on their forms, were disqualified from running for County Committee Members on the Kings County Democratic County Committee. The current committee rules still state there must be one male and one female representative to ensure equal representation of the sexes in local politics.
The 6 individuals who refused to check a box, sued the Board of Elections, but the case was thrown out.
Decaudin is "ready and eager to work with the Kings County Democratic Committee and Executive Committee Chair Rodneyse Bichotte, to work towards a rule change that resolves this issue and many others regarding gender and the party rules, just like we were able to accomplish last year at the New York State Democratic Party." If successful, the rules would be changed to allow any two people to hold the positions previously reserved for one male and one female.
Binary Free NYC, is looking to "amend the way the Board of Elections handles elections for party positions," by removing all sex-based language.
New York voters became eligible to vote by mail on April 9, by Executive Order from Gov. Cuomo. The final vote is June 23rd, 2020.
Update: Election night results "unofficially" show wins for Decaudin — against Haynes-Wood, for "Female State Committee Member," and against Feerick, for "Female District Leader," pending count of unprecedented number of mail-in ballots.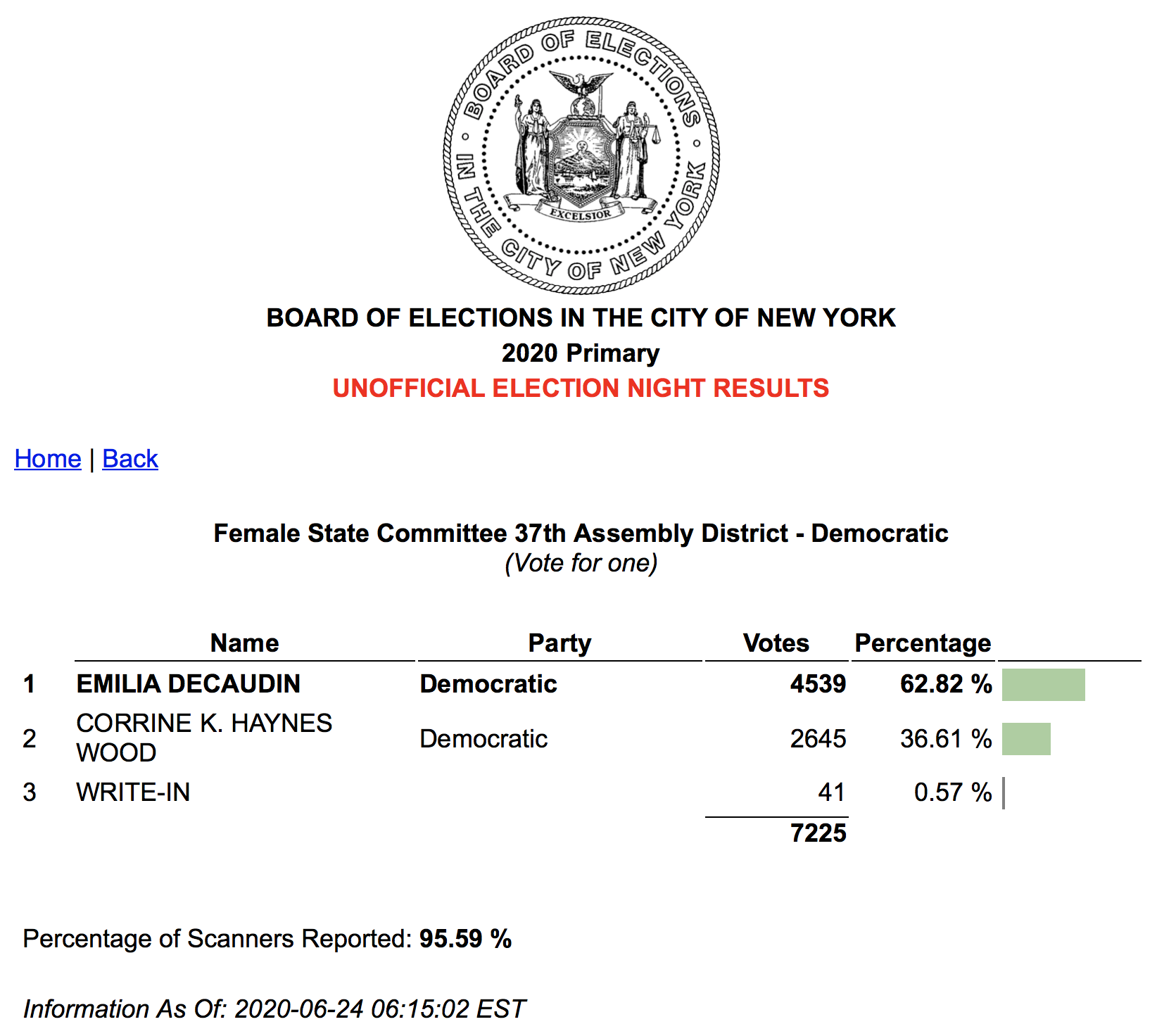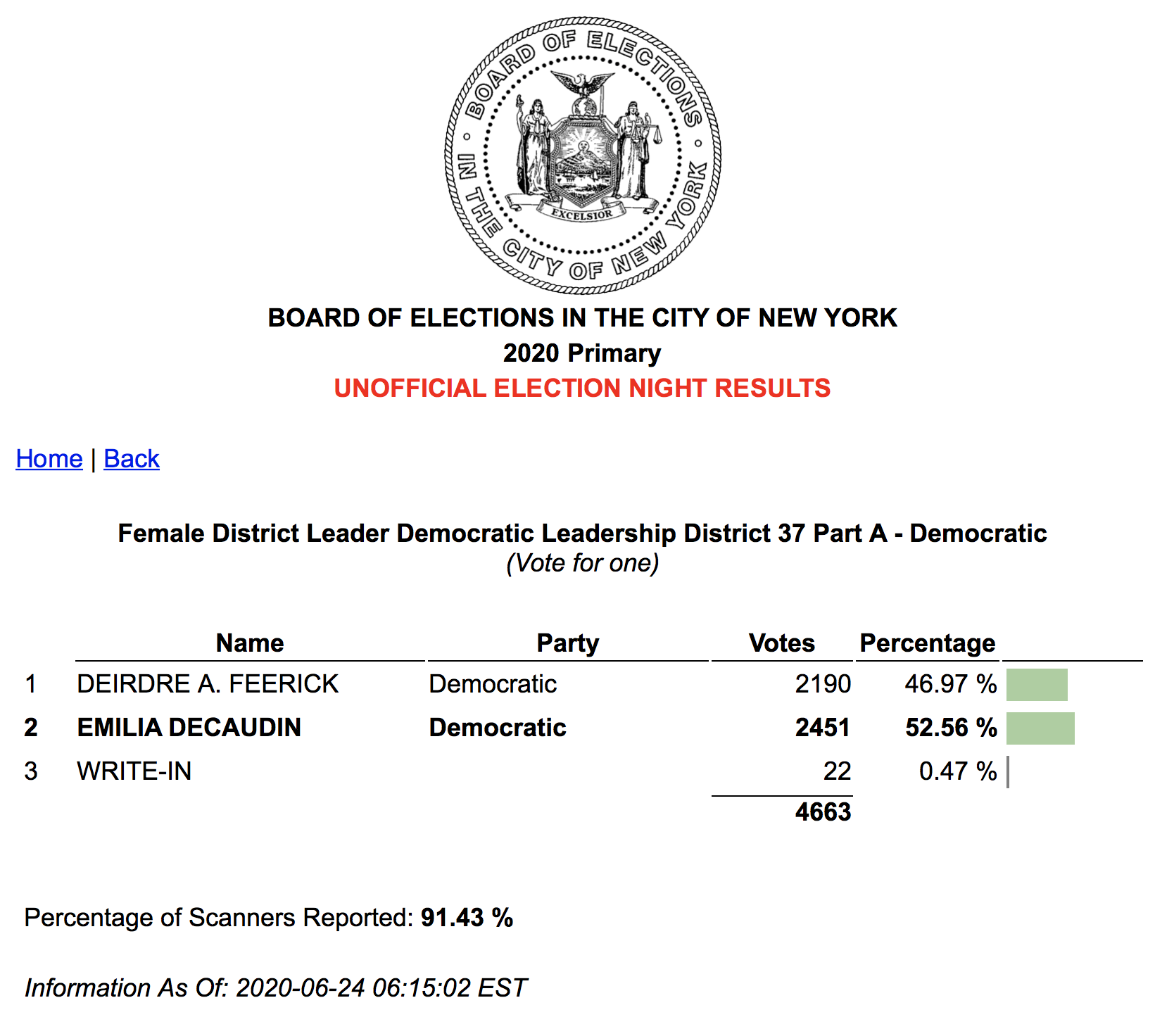 Update: After several weeks of counting an unprecedented number of mail-in ballots, Decaudin has officially taken both the "Female State Committee Member" position and the "Female District Leader" position.
Online, Decaudin openly talked about spending the last several weeks involved in the ballot counting process. On July 21, Decaudin said, "So, I haven't been too active recently as I've been spending most of the past three weeks with @ReformersNew making sure every valid absentee ballot in Queens is counted. (Shout out to @MarthaNAyon and @ZachariahBoyer for their particular contributions to this process!)"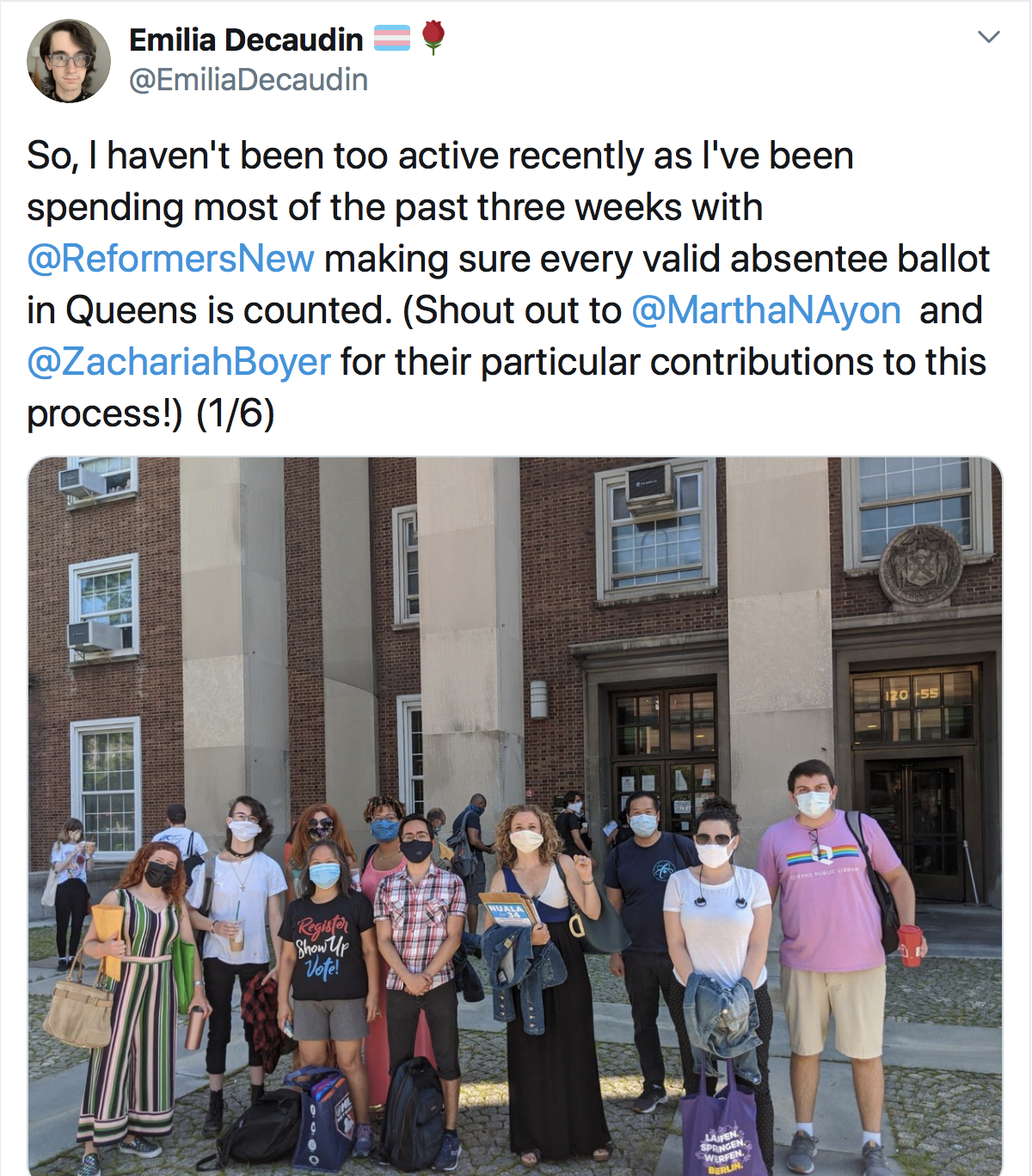 According to City & State NY, "Election lawyer Sarah Steiner discussed the importance of the [one man, one woman] rule for women in a 2018 interview with WNYC, before the state committee rule change. In a comment to City & State, Steiner agreed that nonbinary people have to right to run and should have a pathway, but cautioned that removing the requirement to elect women could lead to women being under-represented on the county committees. 'I have a feeling that anything that changes these rules will eventually take a toll on the number of women in office,' Steiner told City & State."
City & State NY reports, "Claudia Coger, president of the Astoria Houses Tenant Association, where Wood-Haynes' running mate Andre Stith lives, lamented the fact that people new to Queens were running against and beating residents with deep roots in the neighborhood. Both Haynes-Wood and Stith are African American. 'That bothers me,' Coger told City & State. 'How are you supposed to represent me if you don't know anything about me?'"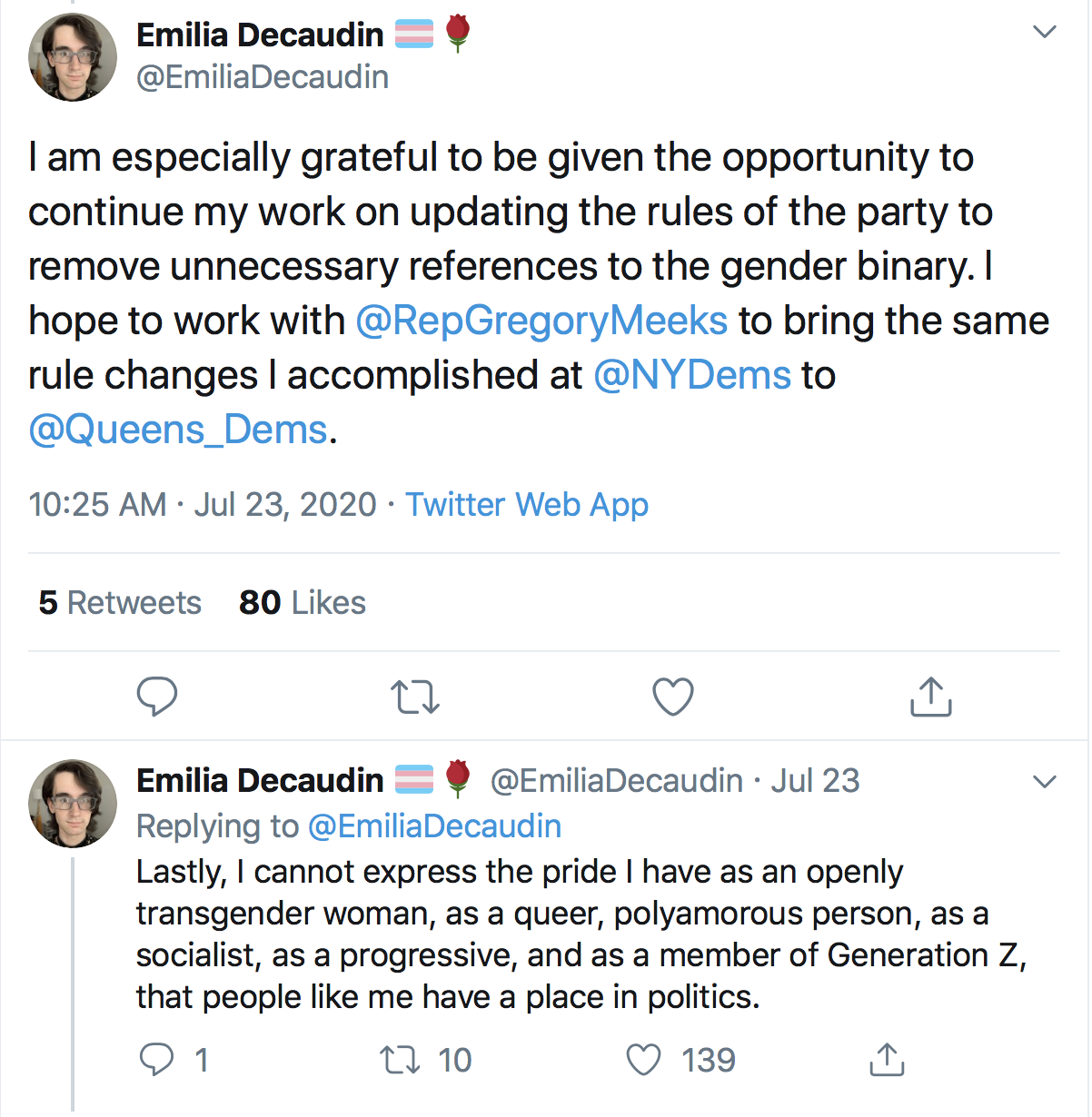 On July 23, Decaudin said, "I am especially grateful to be given the opportunity to continue my work on updating the rules of the party to remove unnecessary references to the gender binary. I hope to work with @RepGregoryMeeks to bring the same rule changes I accomplished at @NYDems to @Queens_Dems."
This is Part II of a developing story. Please check our latest Exclusive for updates. (Also see Part I of the ongoing coverage here)
*Article edited to add June 23, 2020 1am post by Samy Nemir-Olivares — Candidate for District Leader in Brooklyn AD53, and unofficial election night results.
*Article edited to add post-election comment by well-known trans figure, Buck Angel
*Info added on Decaudin's run for "Female State Committee Member" 37th AD.
*Correction: Haynes-Wood and Stith are running for 37th AD State Committee.
---
Claudia Lucas Robertson is a lesbian activist, musician, improv performer and Editor-in-Chief at The Velvet Chronicle.
جوليا ديانا — Julia Diana Robertson, is a an award-winning author, journalist and Senior Editor at The Velvet Chronicle.