Chris & Melania were out on a date when they were attacked by a group of male passengers on a bus last week in London.
On Wednesday, June 5, Melania Geymonat—a doctor from Uruguay, currently working for Ryanair and living in London—posted about the attack on Facebook. The couple was headed to Chris' place in Camden town, when a group of at least four male passengers harassed and then violently attacked them on the top level of the bus.
Today, four males, ages 15 to 18, were arrested on suspicion of aggravated grievous bodily harm and robbery.
Before attacking the couple, the group of males kept talking about "lesbians" and various "sexual positions" including "scissors," demanding the couple kiss, and throwing coins at them. Melania tried to make jokes to lighten things up, and Chris pretended to be sick, but the harassment escalated. They were alone with the group on the top level of the bus, when the group of males violently attacked Chris. When Melania intervened, they attacked her as well.
Melania believes she may have "lost consciousness," and the next thing she recalls, the bus stopped, the police were there, and she realized they'd been robbed.
She describes the incident in both English and Spanish. In Spanish, Melania writes: "Realmente pensé que podía mediar la situación que pasaría como uno de los desagradables momentos QUE USUALMENTE debemos soportar como MUJERES Y COMO HOMOSEXUALES, y que se calmarían." Translation, "I really thought that I could mediate the situation, that it would pass like one of the unpleasant moments that we USUALLY have to endure as WOMEN, and AS HOMOSEXUALS, and that they would calm down."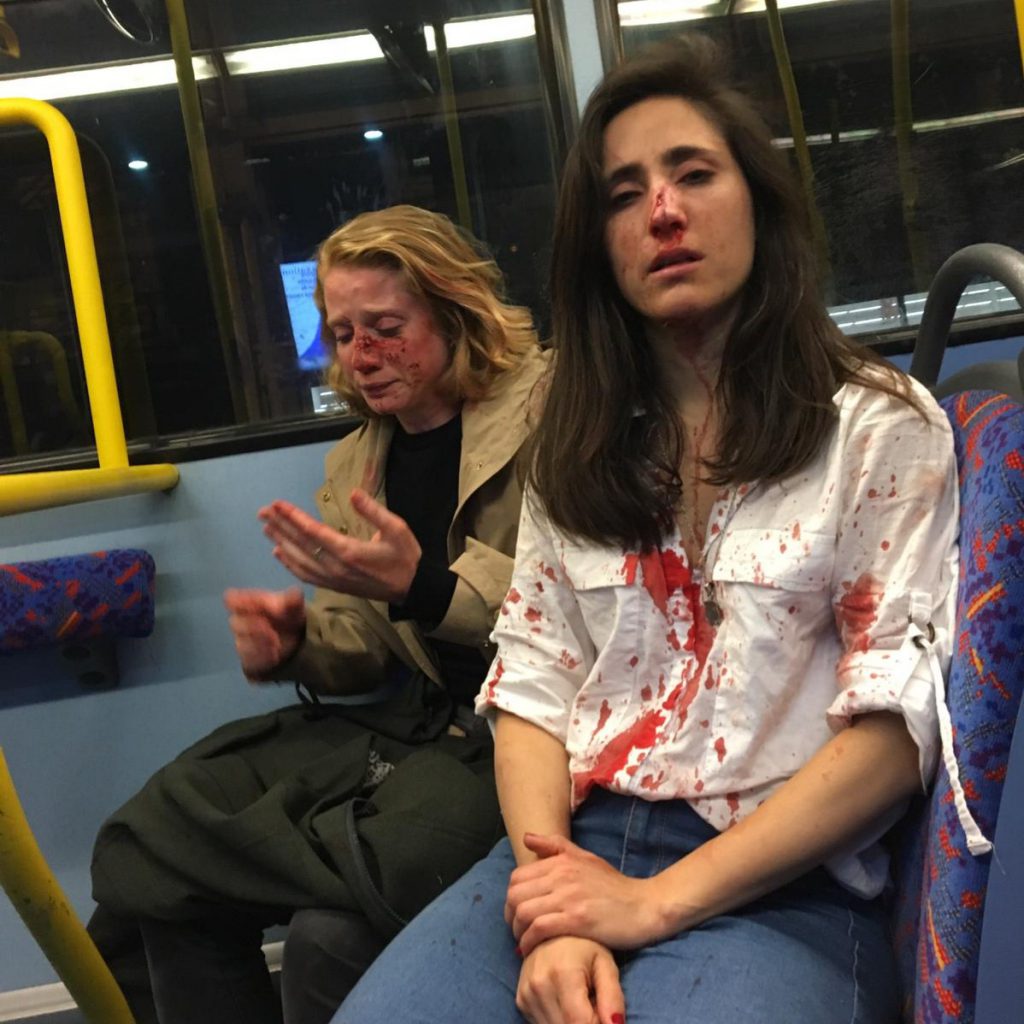 It's well past the time for mainstream media, including "LGBTQ" media, its publications and organizations, to take responsibility for the part they play in encouraging violence against lesbians.
Mainstream media has long promoted the dehumanization of lesbians, something "LGBTQ" media has both sanctioned and contributed to.
In recent years, violence against lesbians has been encouraged by the male-dominated "LGBTQ" media, in subtle and not-so-subtle ways—Like the normalization and use of slurs that are associated with threats of violence (including rape and murder), and other slurs specifically used to degrade lesbians (e.g. "vagina fetishists"), and the spearheading of homophobia parades that specifically and exclusively target lesbians (both online and off).
While occasionally reporting on violence against lesbians, the media and organizations often strategically omit the word lesbian. In an online statement, HRC writes, "The brutal attack on a same-sex couple for refusing to kiss in front of a group of men is a direct result of latent and widespread misogyny and homophobia. This epidemic of hate violence against LGBTQ people and trans women worldwide must end now."
Time and time again, violence against lesbians is downplayed, ignored, or erased altogether. Especially where the media is trying to promote a narrative. But also at times when the media feels the violence was deserved, or when the media is attempting to obscure male violence that's been committed by another letter in the acronym.
Melania writes, "what upsets me the most is that VIOLENCE HAS BECOME A COMMON THING, that sometimes it's necessary to see a woman bleeding after having been punched to feel some kind of impact. I'm tired of being taken as a SEXUAL OBJECT…"
Lesbians are not only misrepresented on screen, we're typically objectified, and portrayed as sexually pliable in media, existing to satisfy the male gaze. "LGBTQ" media has not only sanctioned this portrayal, it takes part in its continuation. Inaccurate representations of lesbians are in no short supply. Nor are scenes that pornify lesbians and depict male violence against lesbians. It all translates to real-world consequences.
"LGBTQ" media fails to acknowledge the connection between the consistent targeting of lesbians, and the rise in lesbians being targeted with violence. The connection between excusing violent threats, slurs and acts against lesbians, and the damage it has caused the lesbian community. Time was up several years ago, and the calls for emancipation reflect just how done we are with waiting for things to change.
---
Update: Although Melania wrote "COMO HOMOSEXUALES" (translated literally by the media), and in follow up interviews Chris says she's "queer"—a slur historically used to condemn homosexuality, later reclaimed by homosexuals, and in recent years appropriated to mean absolutely anyone—as of June 24th, Chris clarified that she's bisexual (not homosexual), in an Op-ed.
جوليا ديانا — Julia Diana Robertson, is an award-winning author, and a contributor for Huffington Post and AfterEllen—A first generation Arab-American, who grew up between worlds, and currently resides somewhere in the middle with a bird's eye view.