*This article was originally posted on Huffington Post.
In 2008, I was performing at the LA Women's Music festival, and that's where I met the awesome trio that make up the rock band, BETTY. It was love at first sight— They asked me and my girl group to come on stage for their finale number and dance back up to their world-famous LWord theme song. And from there Alyson Palmer, the group's foxy bass player, asked me to send her our music and she put one of our songs on Showtime's hit series the LWord. Alyson was exactly the kind of woman I aspired to be— The kind of woman that helps other women, that builds women up, in a world where, all too often, women are taught to tear each other down. My list of role models is short. So it was no big surprise to discover that The BETTY Effect, created by band members Elizabeth Ziff, Amy Ziff and Alyson Palmer, had recently come into being— A new organization committed to advancing social change for girls and women who desperately need our help worldwide.

Enjoy this Q & A! And check out International Day of the Girl Child,!
JDR: What year did The BETTY Effect come to be, and what inspired it into being?
BETTY: Funny story. We were doing The BETTY Effect (TBE) work for decades without calling it anything other than part of our 31-year-long, strange road trip as BETTY. It was Gloria Steinem who suggested we could be even more effective if we focused the separate lenses of our creative work as a band. A magnificent and imaginative Board sprang up incredibly quickly to support us as soon as we announced this non-profit venture in 2016, to help us amplify equality and rights for women and girls, the LGBTQ community and others in search of a fair shake. Brilliant Gloria gave us the tag line "Giving Voice To Change" and we hit the ground running.
You ladies are amazing role models to women of all ages! Does that ever feel like a heavy responsibility?
That's a nice thing to hear, thanks. Each of the three of us started our activism in early childhood, so it's as natural as flopping out of bed in the morning. We're more surprised when someone doesn't speak up or speak out. How can you live with yourself each time you hear about gross unfairness without at least giving voice to the injustice, if not actively working to right it in some way? To us, the burden of sustained inaction would be the crushing weight.
This world inflicts so many horrors upon females. In some countries just being born female means an immediate grave. We still have such a long way to go. How do you keep from feeling overwhelmed? …I take a lot of really long baths.
It is wildly important, absolutely crucial, to create times to breathe and deeply enjoy the great gift of life, every single day. Especially in America, where so many of us have so much that we take for granted in comparison with the rest of humanity— To not find moments of peace and gratitude is an insult to existence. All three of us find ultimate joy in artistic creation and expression, ours and others. Elizabeth uses yoga and meditation to find peace, Aly explores the world outside with her family, and Amy finds comfort in fine bonbons, a good vintage and lingering soirees.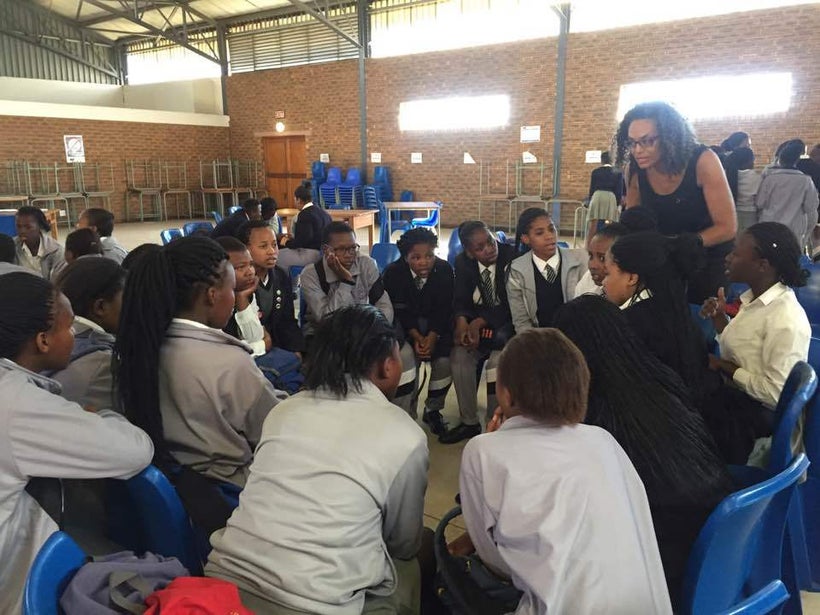 You're working with the US Department of State. Their mission statement is "to shape and sustain a peaceful, prosperous, just and democratic world and foster conditions for stability and progress for the benefit of American people and people everywhere." In 2017, the fact that women will soon be allowed to drive in Saudi Arabia is sadly a headline that reminds us more of the male guardianship laws that make anyone with a vagina a piece of property. What kind of ripple effect, if any, do you think the laws in this country have on the rights of girls and women worldwide?
The diplomatic corps of the United States, is a hard-working, self-sacrificing and crucial arm of our government. The tireless work of the Department of State has always been vital to the peace and prosperity of our nation. In previous Administrations, humanitarian diplomacy has been strongly supported. That has ensured that the export of The American Ideal has been a flawed, but a shining example of a young democracy's ultimate goal of fairness for all. Under strong Secretaries of State, we have promoted progress for women and girls in ways that have helped lift and sustain other communities. Secretary Clinton's assertion in Beijing that "Human rights are women's rights and women's rights are human rights" was a driving force during her tenure, a truthful declaration and warning, as powerful as Robert Kennedy's call in 1968: "Too often we honor swagger and bluster and excuse those who are willing to build their own lives on the shattered dreams of others." That the current administration is trying to rip away protections and progress for women, including reinstating the global gag rule, is misogyny of the deepest order. Luckily, we believe these are dying kicks of a diseased white horse whose poison is now clearly identifiable.
Our male-dominated government passes laws on behalf of girls and women… Rooms full of men signing off on our bodies. Sometimes we don't find out until after the fact, and other times the public is sold on extensive law changes under a trendy two-word misnomer. How can we encourage women to read the fine print and think on a global scale, rather than hop on the popular band wagon— Ideas sold to us through careful propaganda and ingrained in us by a male-dominated media?
This is an exceptionally good question. It is the crux of the entire women's rights, or any other progressive movement. How do the woke stay awake and gently help others to wipe the medicated sleep from their eyes and rise while battling the combined might of the entrenched forces grown fat on our complacency? Well, just as so many of us were stunned by the outcome of the 2016 election, we think far more were surprised and delighted at the core by the outpouring on 1/21/17: The Great Global Women Rising. That unprecedented event was not a bunch of folks typing furiously on screens at the same time. That was women, girls and those who love them coming together face to face, side by side, arm in arm. That was an organic mass movement of women choosing to act in harmony at the same moment, regardless of any disinformation distributed to dissuade us. Then, on February 14, One Billion Rising brought women out into public spaces to raise our voices. Then again on March 8, International Women's Day, and on through the year in living rooms, laundry rooms, board rooms, classrooms, cubicles and auditoriums, women and girls have continued to gather. It is through that human connection that we defeat propaganda, through actual lived experience that we shatter lies, through our combined energy that we help each other up and keep going. TBE is about visiting people in their own communities to hear about their lives, goals and actions in order to help support them in being more effective in any way we can. Performing artists like BETTY are fortunate to have the opportunity to create crackling campfires that offer public moments to gather, join forces, and toast the marshmallows of our ongoing momentum together.
The Betty Effect creates some great musical events! What's coming up?
In New York City, BETTY returns to the gorgeous, acoustically-perfect auditorium of The Rubin Museum of Himalayan Art on Friday, October 6 to kick off the long Indigenous People's Day weekend. Part of the Naked Soul series, this intimate all-ages, all-acoustic show starts at 7pm. There, we'll be sharing information about The BETTY Effect's next projects, including Women In Harmony festivals in cities around the world featuring local and touring artists, all committed to lifting the status of women and girls BUT sometimes in entirely different and possibly conflicting ways. Allowing the messiness of discourse and honest expression in a safe but challenging gathering, with a goal of harmonizing the differing strains of our needs in order to create effective, powerful partnerships to advance all women is an exciting prospect for us in 2018.
In the Boston area, BETTY plays Saturday, October 14, at Town Hall in Provincetown as a Women's Week headliner. Let's clam chowder and dance to the revolution!
Ongoing everywhere, [email protected] is a women's equality project of The BETTY Effect that offers one minute of inspiration and information every Monday at 1pm from a different feminist change maker. Get the app at 1at1.org.
And you have a new CD! Tell us about that!
BETTY's tenth album is "On The Rocks", an apt title in so many ways for 2017, we think. It's available on iTunes and is chockfull of songs that we've been sharing around the world as part of some of our TBE workshops, including the song "RISE" that we've sung around the world on five continents, from townships in Cape Town, to girls' schools in Mumbai, to the US Capitol. For more information, we love when folks visit us at helloBETTY.com and sign up to stay in touch!
You ladies continue to inspire! Rock on!
For more information on TBE, check out www.theBETTYeffect.org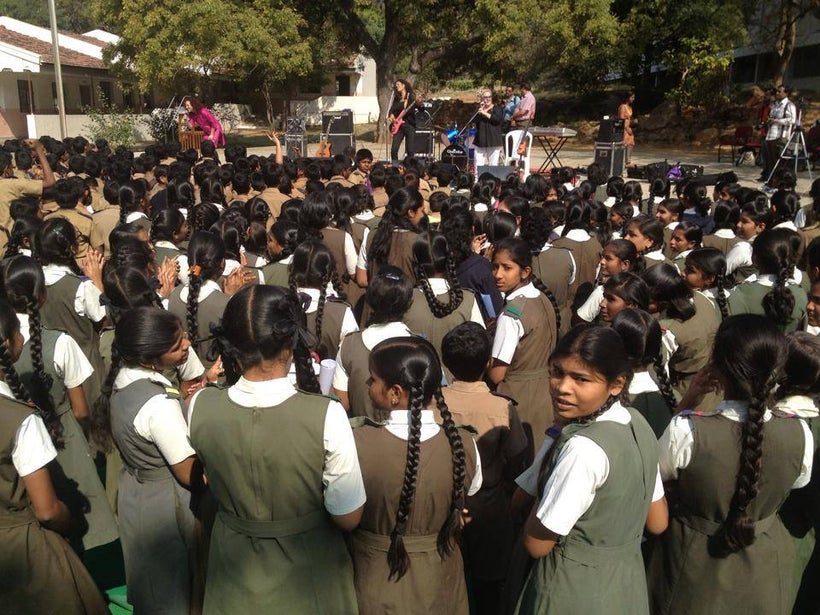 ---
Julia Diana Robertson is an award-winning author and journalist. You can find her (and her fiction) at www.juliadianarobertson.com