Lesbian playwright, Carolyn Gage, has been accused of thoughtcrime and canceled by the thought police.
Richmond Triangle Players announced they've canceled their production of The Second Coming of Joan of Arc, after weeks of rehearsals.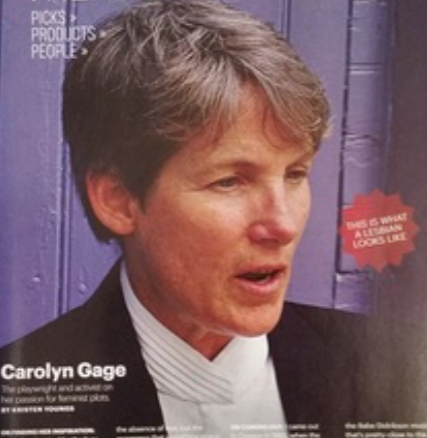 Why? You guessed it! They feel—after scrutinizing the playwright's Facebook page—that Gage has endorsed and expressed views that they "believe to be transphobic."
The Second Coming of Joan of Arc was scheduled to run till October 10, 2020.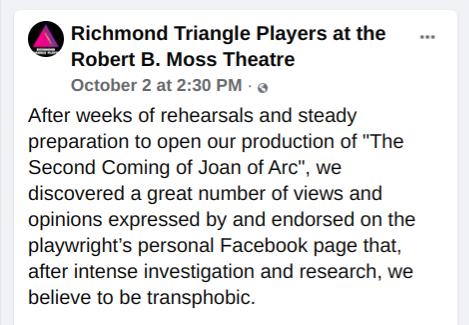 On October 2, Richmond Triangle Players released the following statement:
"After weeks of rehearsals and steady preparation to open our production of The Second Coming of Joan of Arc, we discovered a great number of views and opinions expressed by and endorsed on the playwright's personal Facebook page that, after intense investigation and research, we believe to be transphobic.
This production had been planned to re-open Richmond Triangle Players after many months of Covid-caused dormancy. We took our responsibility to process this information we found seriously, and to proceed with care to support our artists, our patrons, and the LGBTQ+ community at large.
We have therefore made the decision to cancel our production of this play in its entirety.
This decision was not made frivolously or lightly, and comes after days of serious and thorny discussions. Our actor and creative team had put together a beautiful production that was ready to open. But now more than ever before, Richmond Triangle Players must use its leadership voice to stand in solidarity with our trans siblings, especially at a time when marginalized voices must be heard louder than before.
All patrons who have bought tickets for either the in-person or streaming performances will be contacted by our Box Office staff today or tomorrow, to either process their refunds or exchange their tickets for another production.
We encourage our friends and colleagues who might have otherwise come to see the play to make a donation to Nationz Foundation (https://www.nationzfoundationrva.org/), an organization whose one-of-a kind advocacy in our community deserves our support."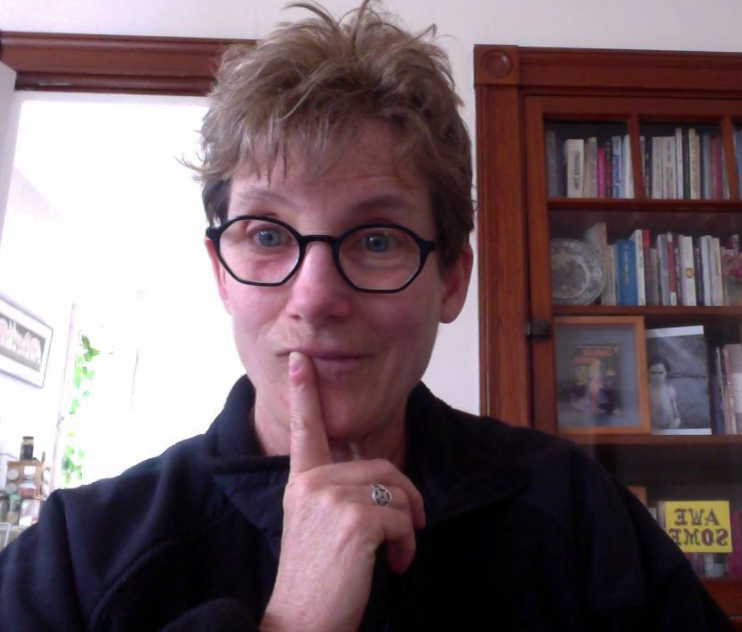 A comment online reads, "Joan of Arc was burned at the stake for her heterodox beliefs and opinions. How ironic that a staging of her story has also been cancelled." Ironic indeed. But this is where we're at, isn't it.
This tactic of 'activists'—threatening livelihoods, careers, dragging names through the mud—is used as a warning shot to others to stay in line. The accusations don't even need to be substantiated.
Unsurprisingly, I couldn't find anything even remotely "transphobic" on Gage's Facebook page. As is so often the case nowadays, it appears Gage was simply targeted for being a lesbian.
---
جوليا ديانا — Julia Diana Robertson, is a an award-winning author, journalist, and Senior Editor at The Velvet Chronicle.