This article, by Julia Diana Robertson, is also published on Huffington Post
Recently, I wrote that the mainstream media is like the great-grandmother who shows up at your lesbian wedding and says, "So, do I call her your husband?" To demonstrate the media's severe butch-phobia problem, I've put together a visual list of 100 'girl-meets-girl' pairings that have something in common… They're all 'femme/femme' pairings (catered to male fantasy and often portrayed as sexually flexible).
As a matter of fact, we almost never see a 'butch' character featured in mainstream media AT ALL. And, thus far, we've only had one butch actress that's made it onto a mainstream show as a main character. So, while my list of 100 could go on and on (I've been diligently collecting screenshots for some time now), I only have a list of 5 'androgynous' lesbian characters… And, sadly, that's an exaggeration. It consists of the only butch actress to ever land a featured mainstream role (albeit as a tired 'butch' cliché), and a few 'androgynous' characters (played by talented actresses, who are not butch in real life).
Mainstream media perpetuates the shaming of butch/androgynous/stud (call it what you will) lesbians, with homophobia that specifically targets lesbians— For the most part, butch characters only get to play extras, and only if they fit into a very particular 'butch' cookie-cutter prototype. They must be willing to take a slap in the face with the typical sarcastic— "Are you a boy or a girl?"— retort (like recently on Girlboss). Yet butch/androgynous/stud (call it what you will) lesbians aren't trying to "be men." They don't "look like men." And the women who love them aren't with them because they "really want to be with men."
Sexuality can't be tricked. Colors, haircuts, clothes, interests and activities don't have a 'gender.' Rigid 'gender norms' are no more than sexist stereotypes created long ago (by men). Biologically innate same-sex attraction is as delicious as an andro-beauty in a Ralph Lauren suit.
But the magic isn't in the tie and the button-down shirt… It's in the female heaven underneath it all. Say it with me now.
In 2017, the mainstream media wants us to know that they're okay with 'lesbians,' but only if we fit their idea of the 'right kind of lesbian'— the version of a 'lesbian' that's obsessively rammed down our throats— feminine and open to whatever. They've sent a clear message to non-femme lesbians: either change or make yourself invisible. There's a very real and frightening desire to eradicate 'butch' lesbians from view. And this cruel dehumanizing sentiment is echoed everywhere— from schools, to the local diner, to the grocery check out line. As you look at the list of 100 below, imagine what it must feel like for a young 'androgynous' girl to never see herself as anything other than the butt of a joke. A riddle to be solved. Imagine what it's like for all lesbians by extension. Consider the level of misogyny that the mainstream media maintains. Think about the message it's sending, and the internalized homophobia it may cause.
Now, without further ado (and in no particular order), I present you with the mother of all visual aids:
1. Stef and Lena.
Like many other current shows, The Fosters is willing to break new grounds and push the limits, just not when it comes to putting a butch lesbian on their screen.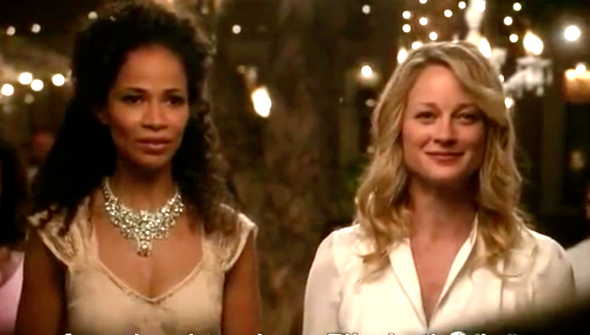 2. Waverly and Nicole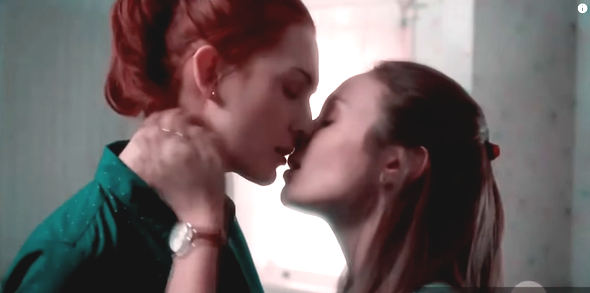 3. Alex and Maggie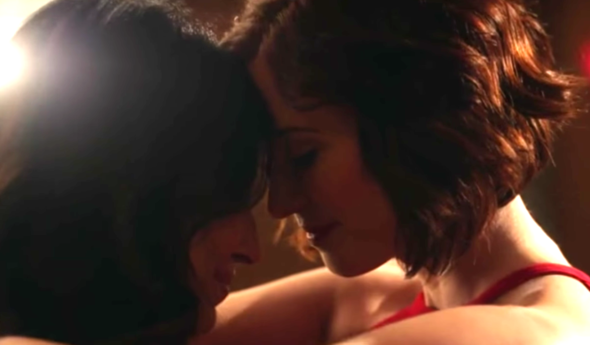 4. Carol and Susan.
Couldn't resist this uber-femme F.R.I.E.N.D.S. wedding throwback.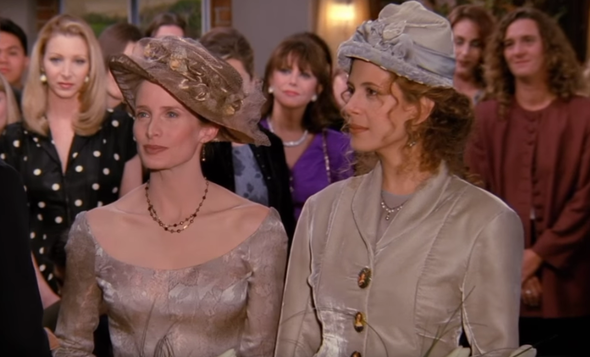 5. Barbara and Tabitha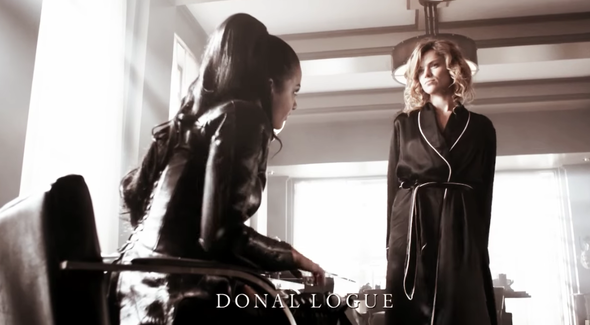 6. Chloe and Catherine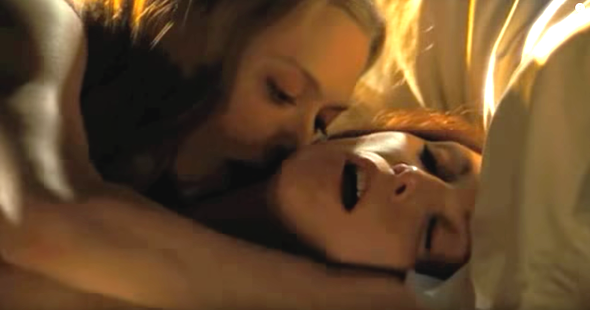 7. Mia and Guilda (and some guy)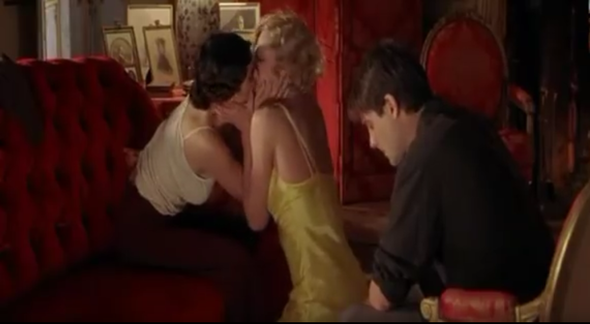 8. Renee and Barbara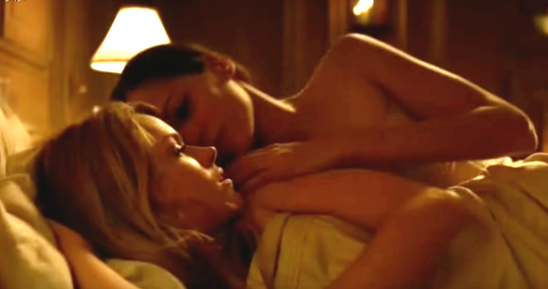 9. Leah and Arizona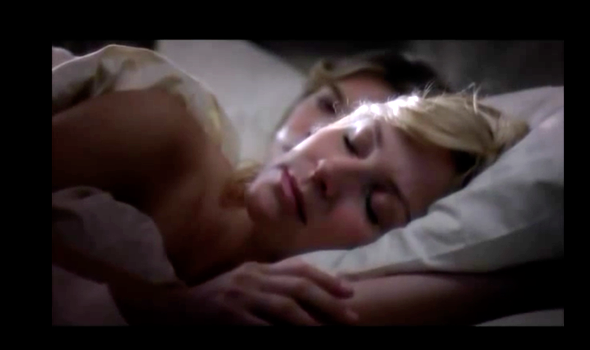 10. Yasmin.
On a recent episode of Scandal, we find out Rashad's niece, Yasmin, has a girlfriend, but (spoiler alert)…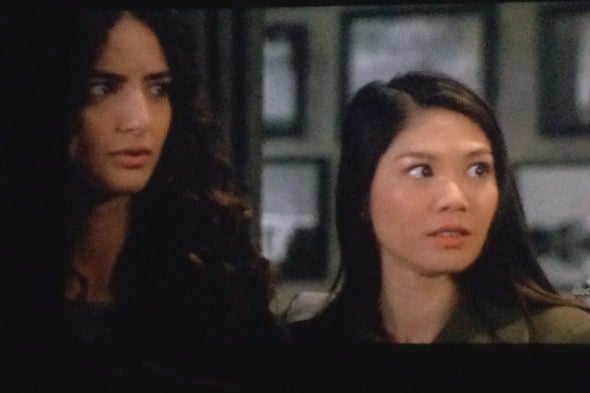 … in true "Bury your Gays" fashion, she waves us one last goodbye and gets blown up on a plane. It was pretty cool to finally see an Arab lesbian represented on a mainstream show. Guess I'll keep waiting…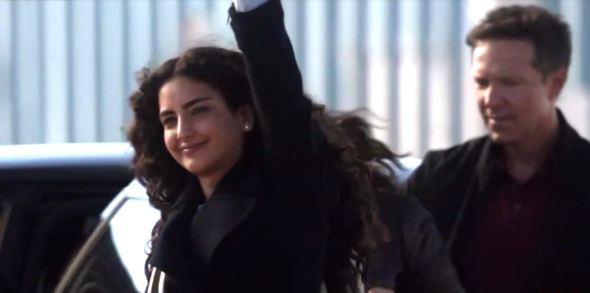 11. Arizona and Carina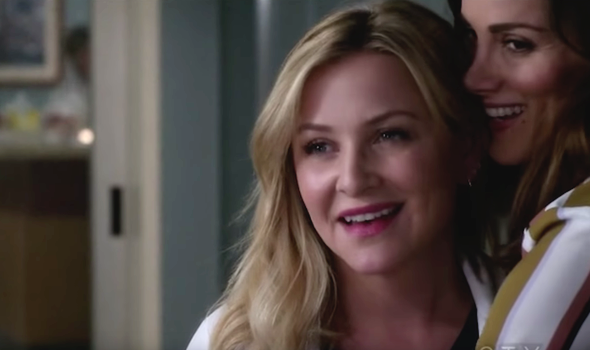 12. Heather and Callie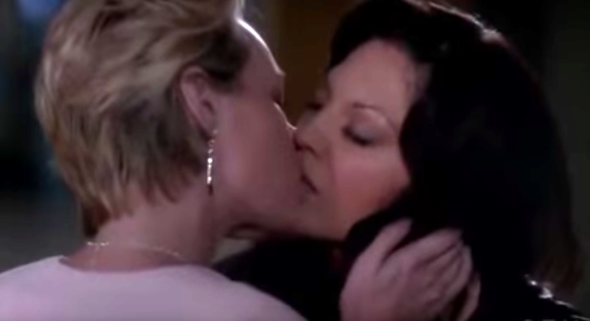 13. Nic and Jules.
Apparently, mainstream's version of 'lesbians' watch gay man porn… Jules, predictably, has an affair with the sperm donor.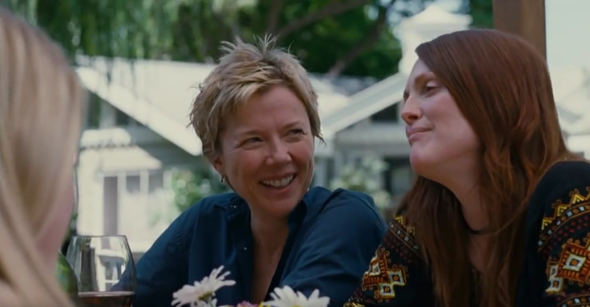 14. Cosima and Delphine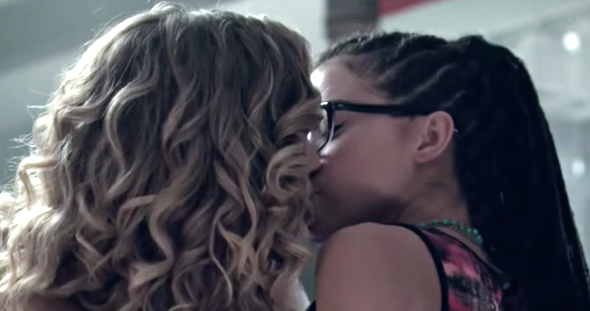 15. Wendy and Lana. 
Ryan Murphy's vision of lesbians is always femme on femme, catered to the male gaze… And sometimes strapped to tables, raped, amputated and crawling out of basements.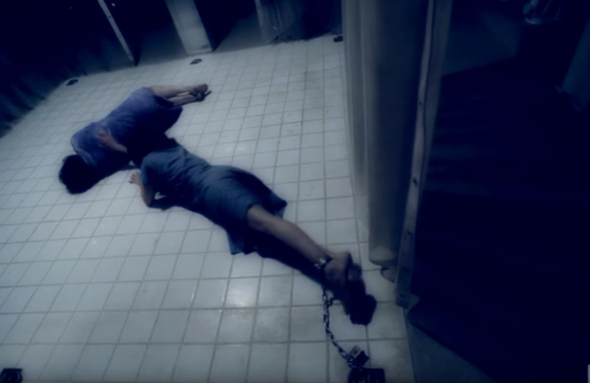 16. Ramona and Countess…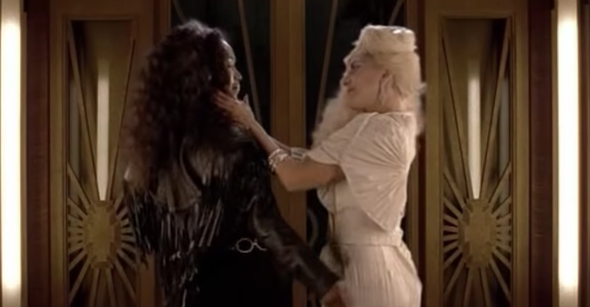 17. more AHS girl on girl for men…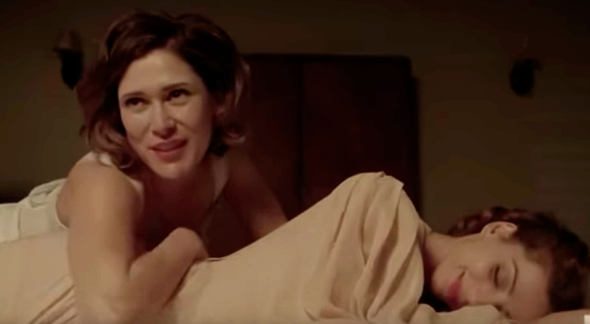 AHS… literally… This guy with a creepy doll is in the room watching.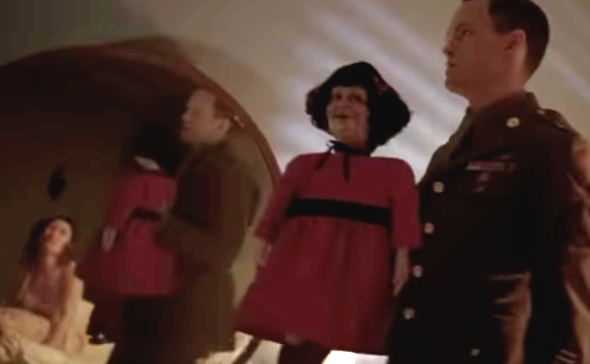 18. Moira and her mistress (looking up at some guy).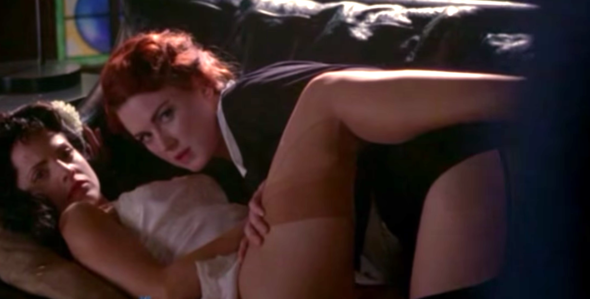 19. Natasha and the Countess (and some guy) .
Okay Ryan… we get the point.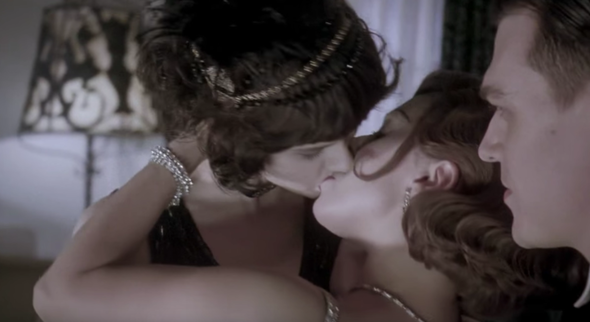 20. Lyria and Eretria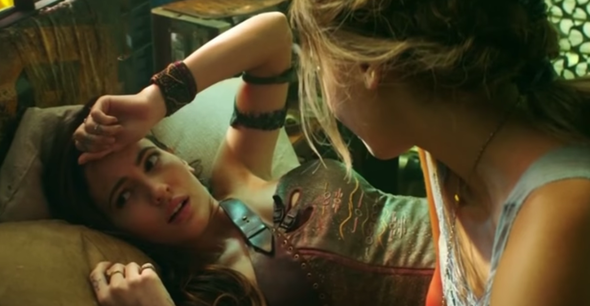 21. Jenny and Marina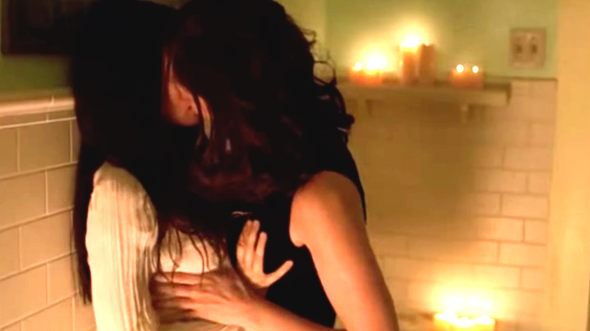 22. Bette and Tina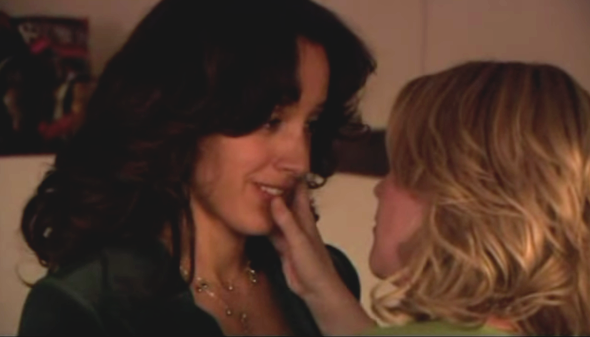 .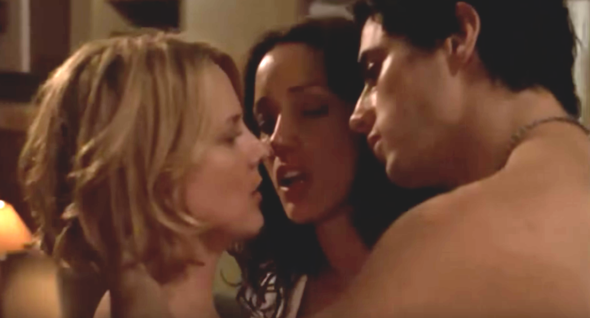 23. Throwback to Gia and Linda.
But Gia is based on a true story.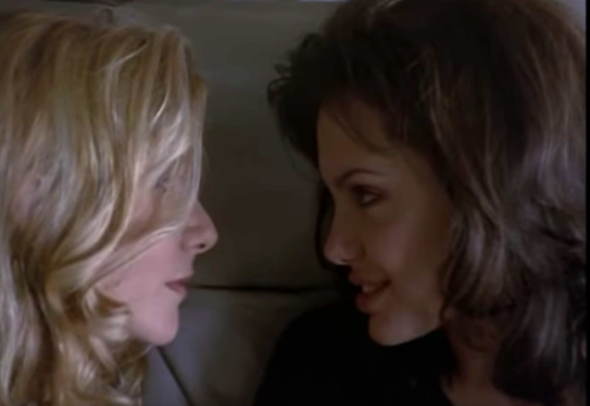 24. Jody and Bette…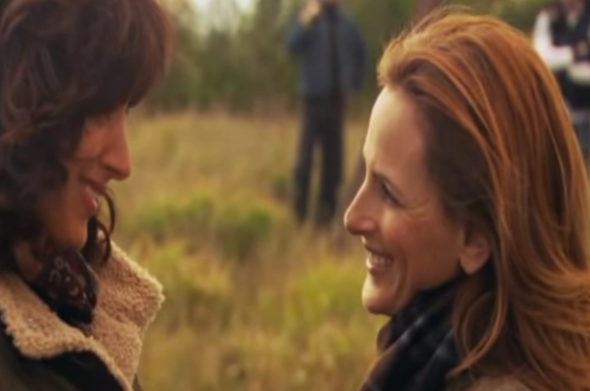 25. Nikki and Jenny…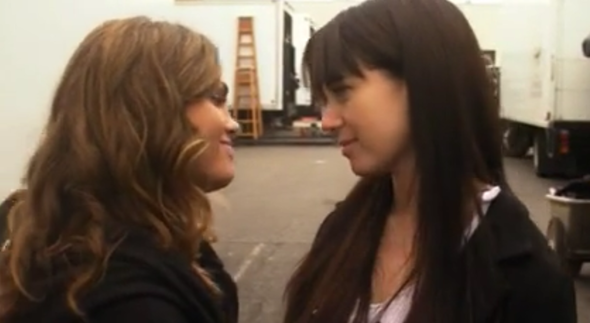 26. Holly and Gail…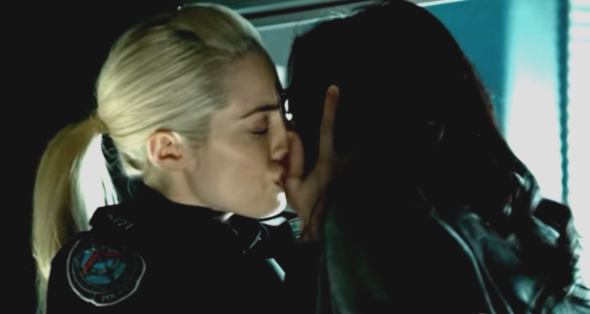 27. Alison and Naomi…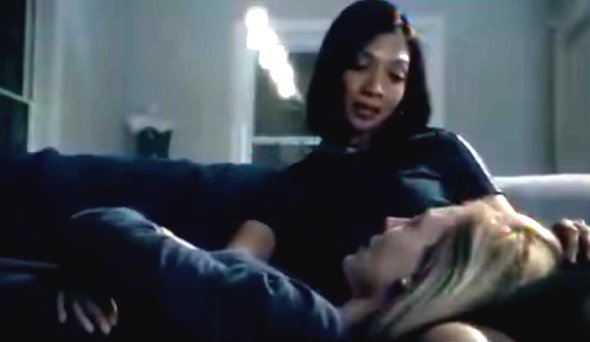 28. Bo and Lauren…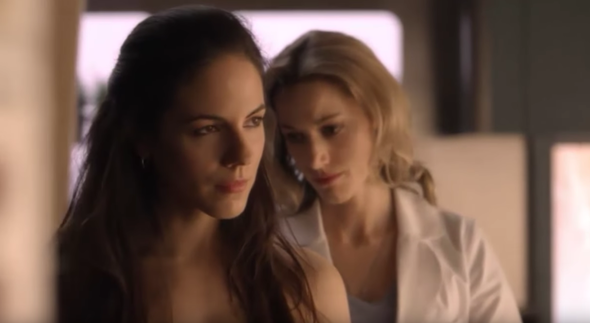 29. Root and Shaw…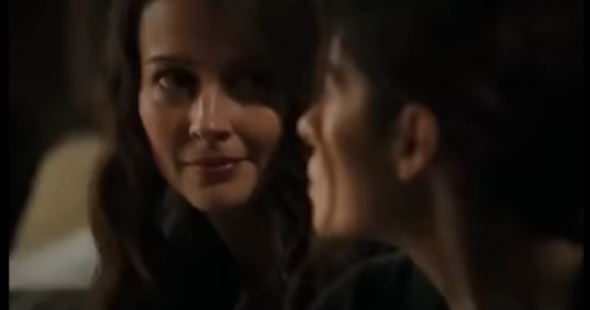 30. Pippy and Tara…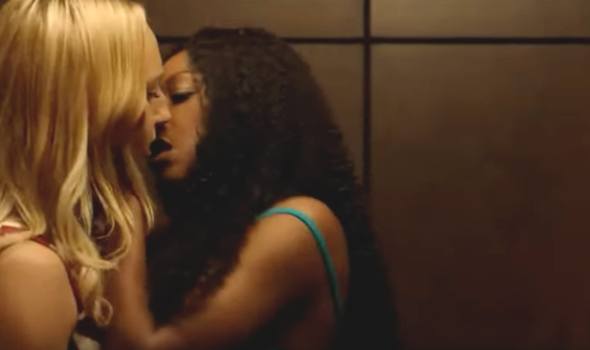 31. Tara and Denise…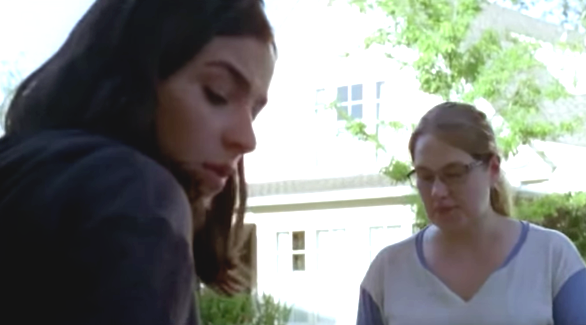 32. Arizona and Eliza…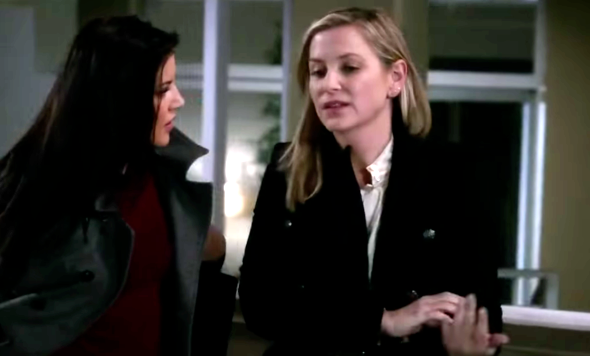 33. Alex and Piper.
Piper's character on Orange is The New Black (a.k.a. OITNB) is actually loosely based on a real person, Piper Kerman.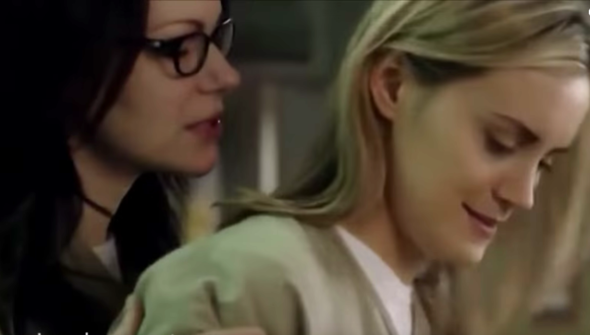 34. Penny and Callie…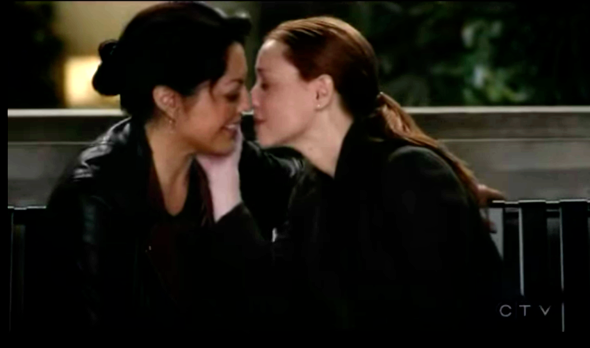 35. Nikki and Lorna…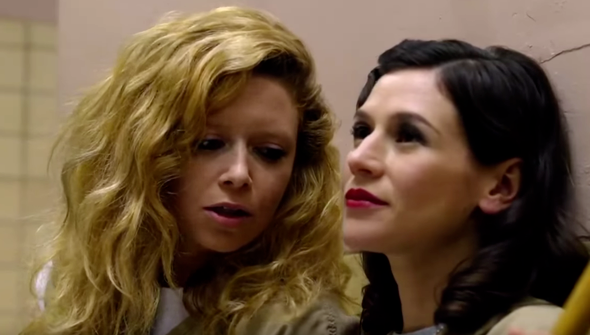 36. Erica and Callie (and Mark)…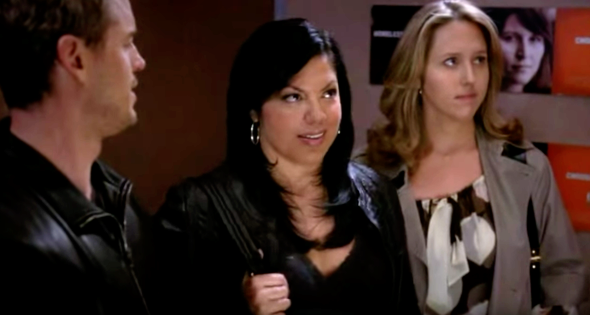 37. Trisha and Mercy.
The role of Trisha, a drug addict, was played by Madeline Brewer, on OITNB (spoiler alert)…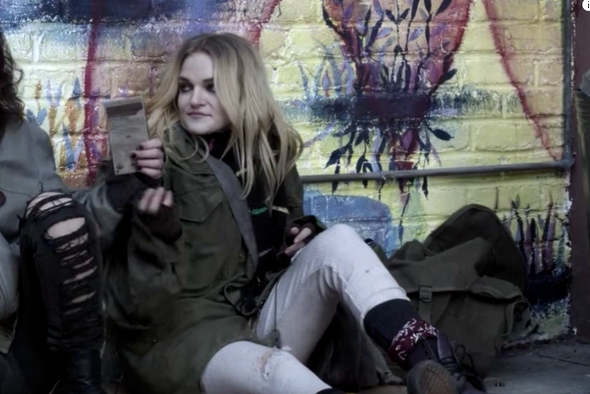 Trisha, OITNB…Brewer had the les-swag down really well…She became a victim of "Bury your Gays."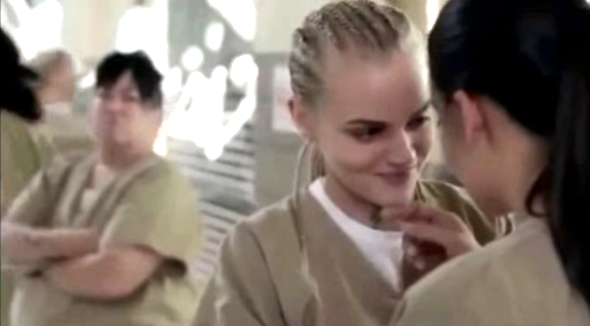 38. Nina and Lily…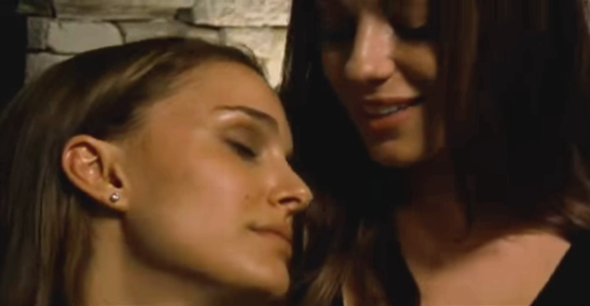 39. Paige and Emily…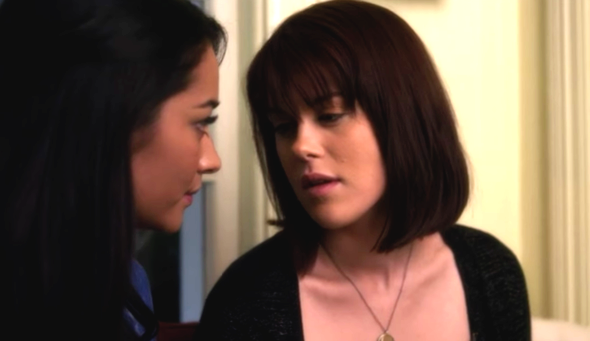 40. Throwback to Pauline and Juliet…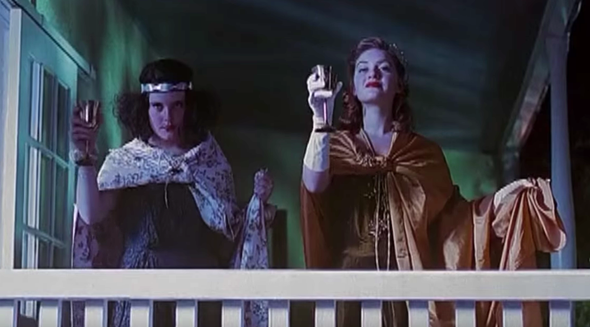 41. Allison and Emily…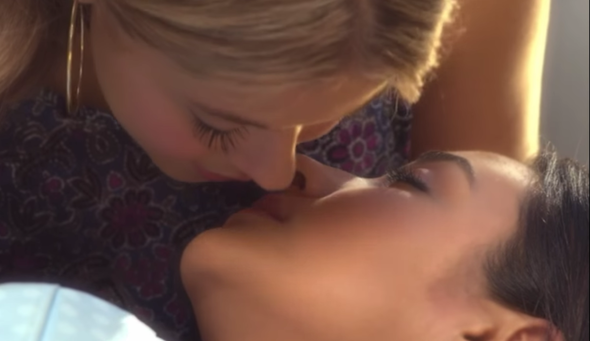 42. Thelma and Anja.
Sure to sell lots of mainstream tickets in 2017.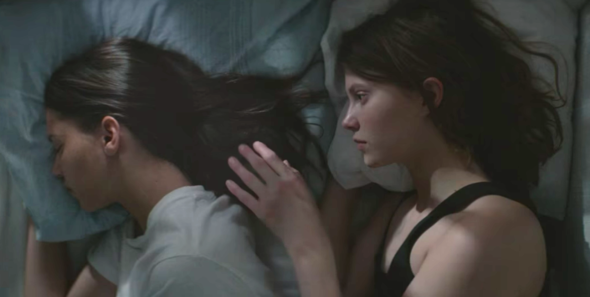 43. Janet and Bianca…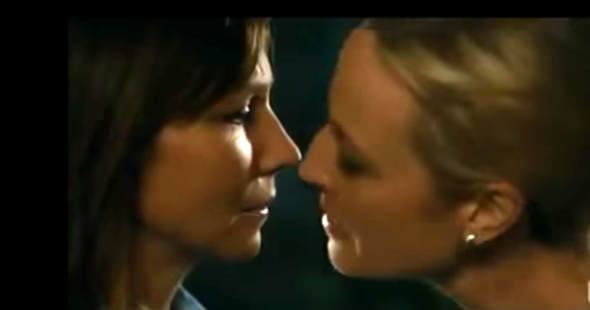 44. Julie & Nikki…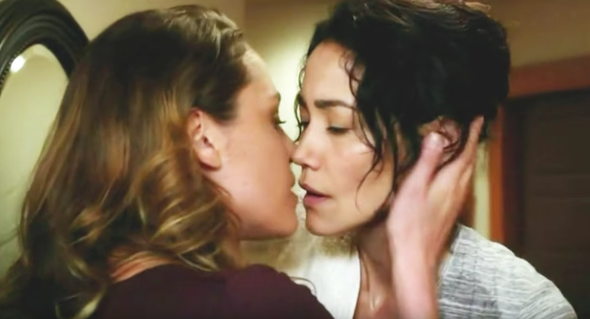 45. Arizona and Callie. 
Grey's Anatomy is willing to push the boundaries… Just not when it comes to having a butch lesbian on their show.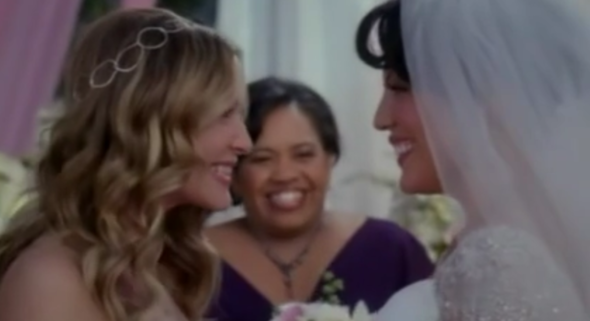 46. Shay and Clarice…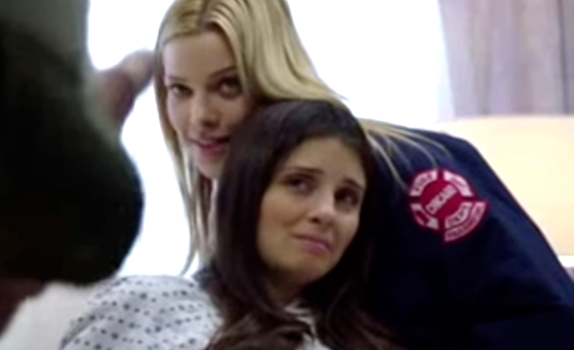 47. Emily and Maya…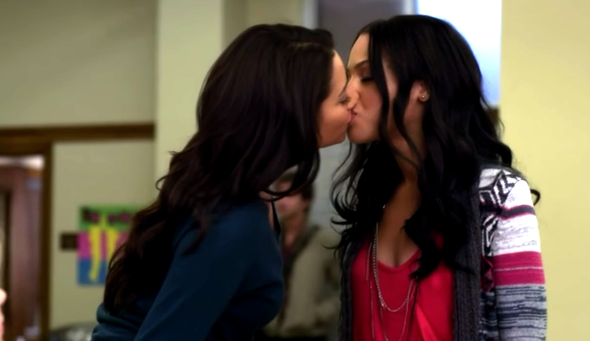 48. Lara and Dana…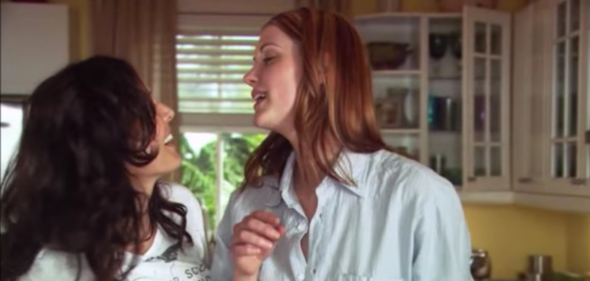 49. Santana and Brittney on Glee.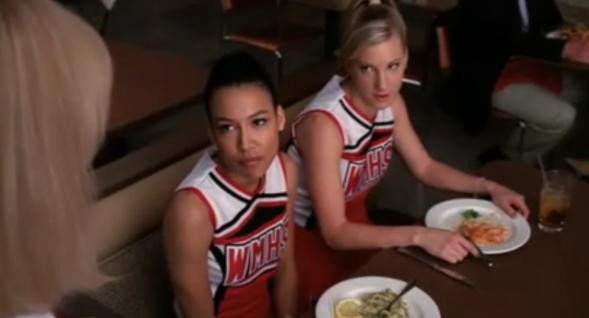 Santana and Brittany, Glee (Ryan Murphy)…The pair end up in flowing white wedding dresses.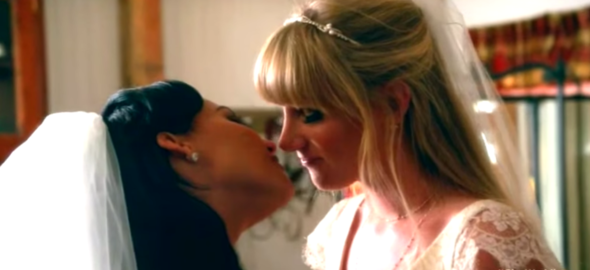 50. Throwback to Suzie and Kellie.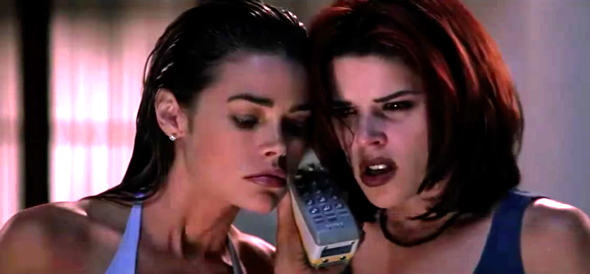 51. Maggie and Sydney…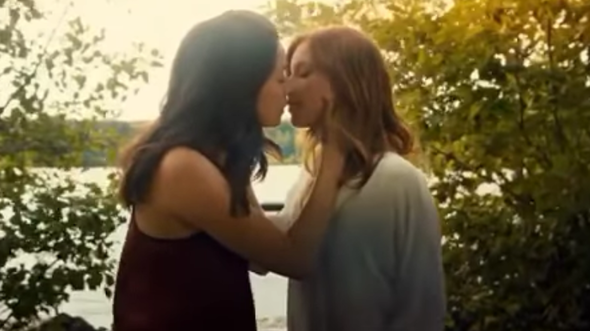 52. Clarke and Lexa…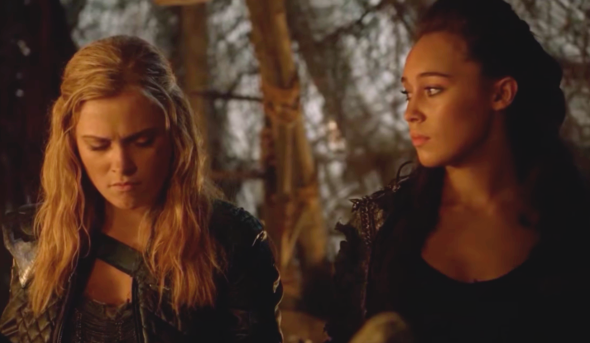 53. Freya and Keelin…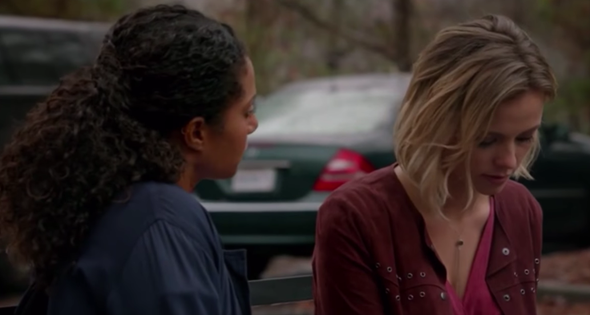 54. Sabrina and Emily…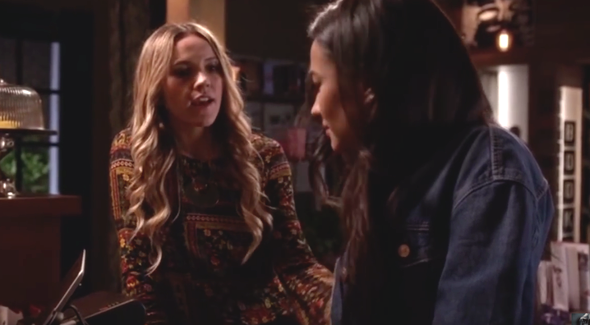 55. Bianca and Reese…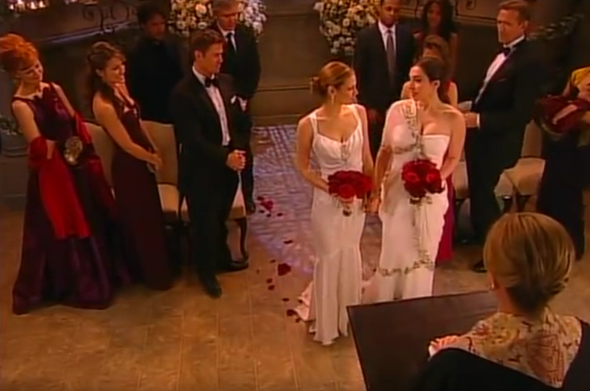 56. Tamsin and Bo…
57. Dani and Santana. 
Glee was willing to break new ground… So long as lesbians were still checking off the "pink is for girls" box.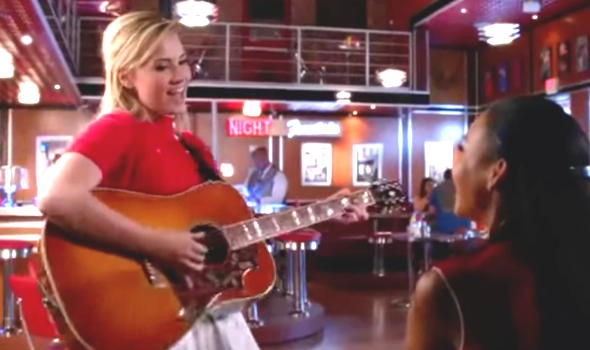 58. Fionna and Charlie…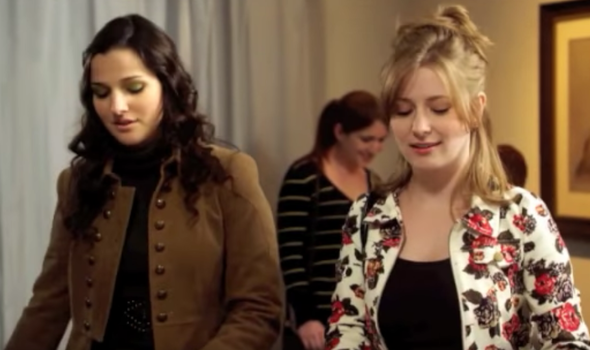 59. Frankie and Bridget….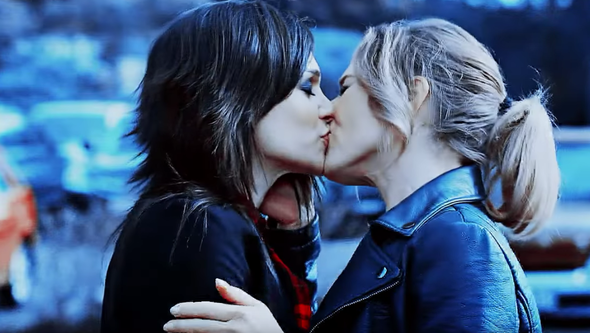 60. Imogen and Fionna…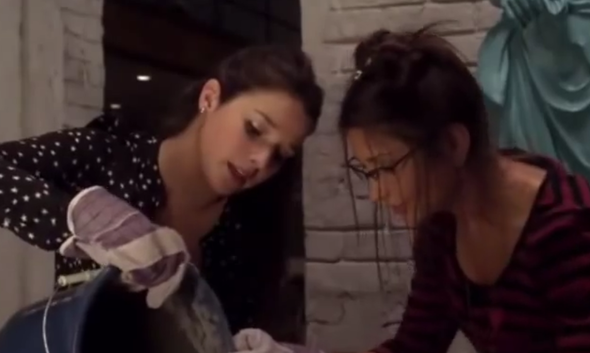 61. Throwback to Queer as Folk, Melanie and Lindsay…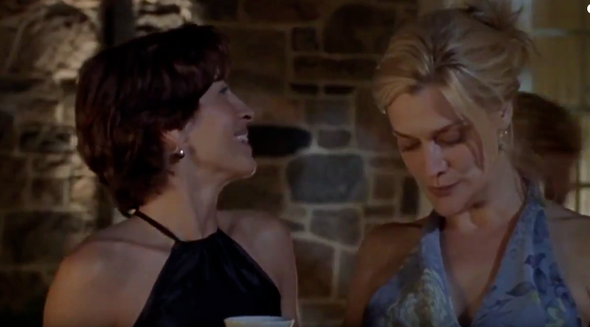 62. Penny Dreadful is willing to push the envelope…
…Just not when it comes to casting women who don't look the way mainstream insists women should look.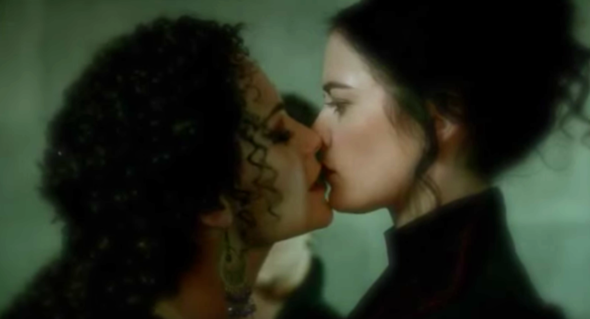 63. Adrianna and Gia…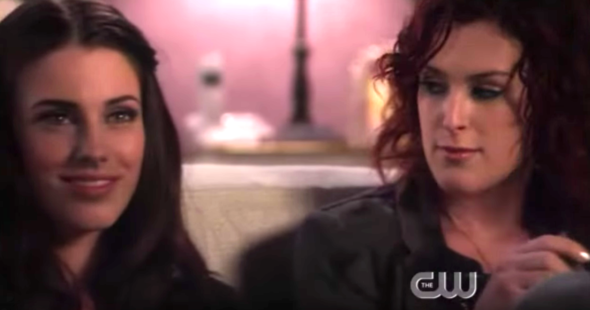 64. Paige and Alex…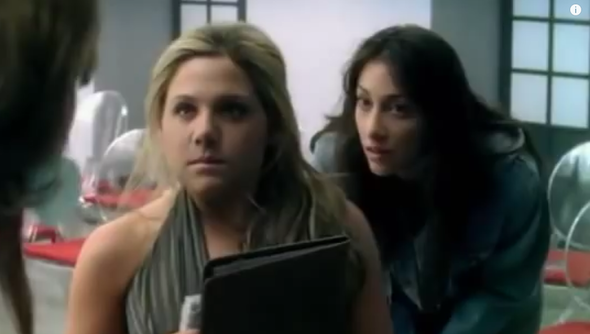 65. Luisa and Rose…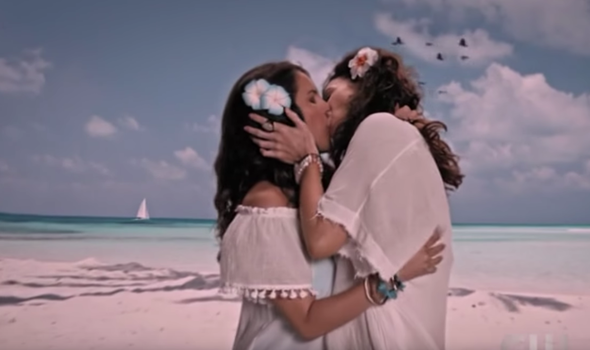 66. Delle and Aneela…
…Delle and Aneela (and men)
67. Talia and Emily…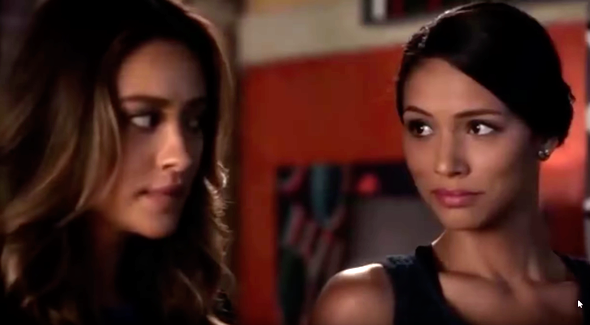 68. Throwback to Kennedy and Willow…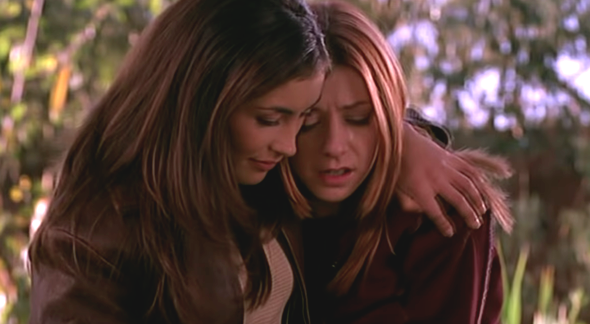 69. Tiana and Tory…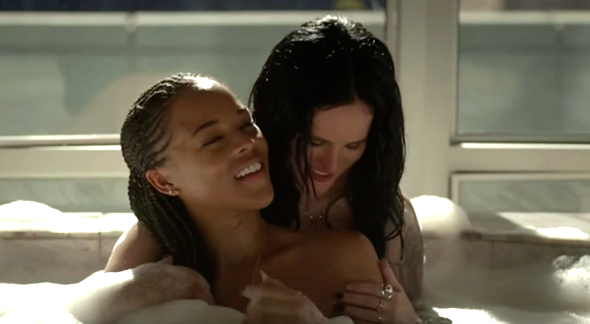 (and a guy)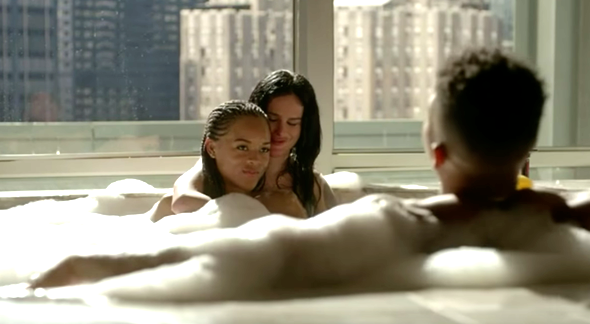 70. Sara and Nyssa…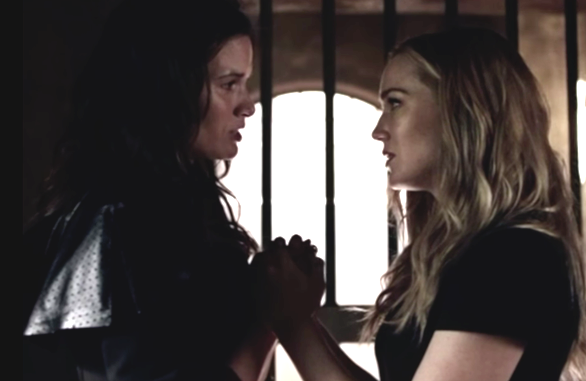 71. Fiona and Jasmine. 
Shameless pushes the envelope— Just not when it comes to giving us a story line with an andro-hottie.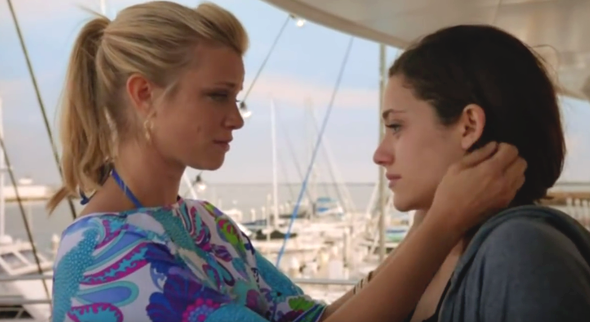 72. Throwback to One Tree Hill's Anna and Peyton (spoiler alert)…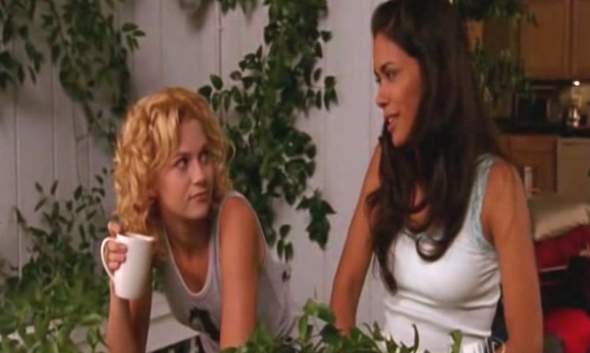 One Tree Hill…an early victim of "Bury Your Gays."
73. Marissa and Alex…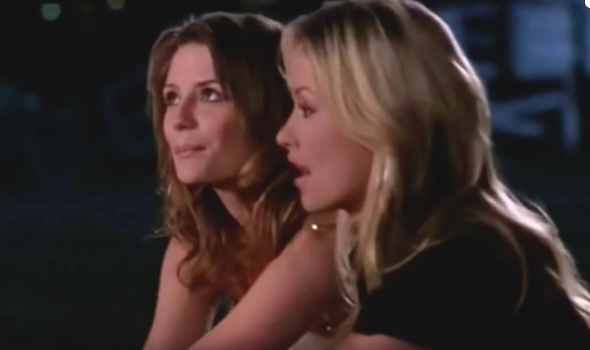 74. Cat and Frankie…
Frankie is one of my favorite bisexual characters… But my all-time fav bi character is further down on this list. Hint: Starts with Ka. Ends with "que linda!"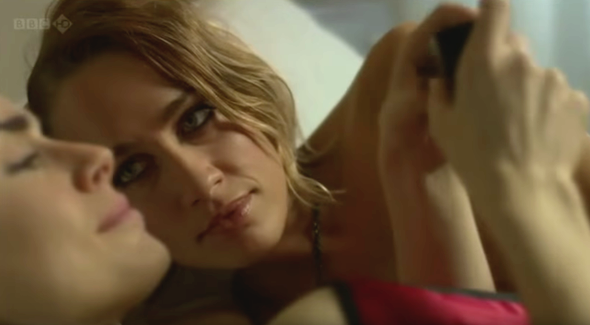 75. Samara and Emily…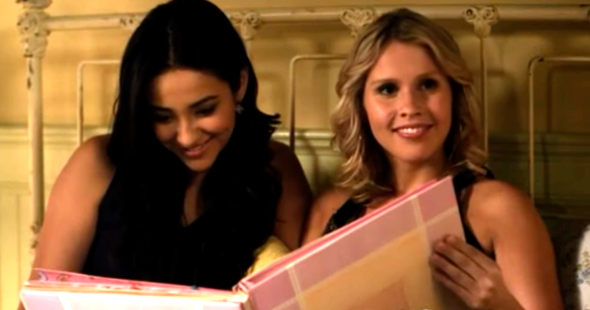 76. Zoe and Grace. 
Degrassi pushes the envelope, but not when it comes to putting a 'butch' lesbian on their screen.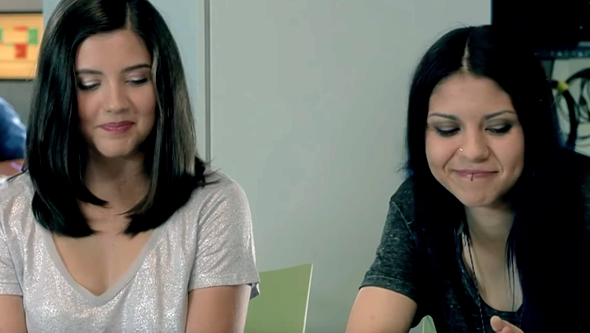 77. Mary and Nora…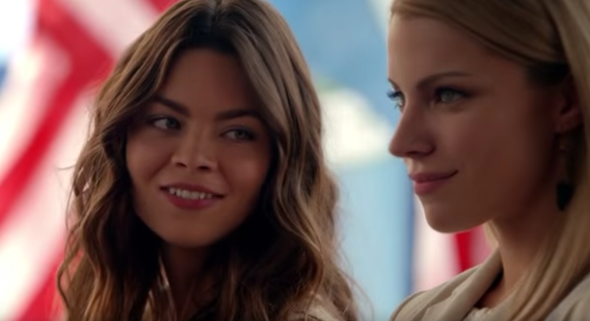 78. Karma and Amy…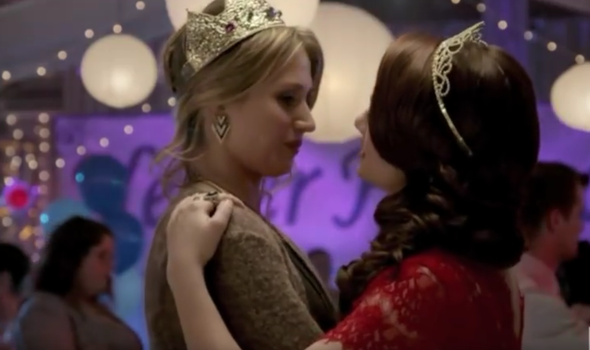 79. Sara and Emily…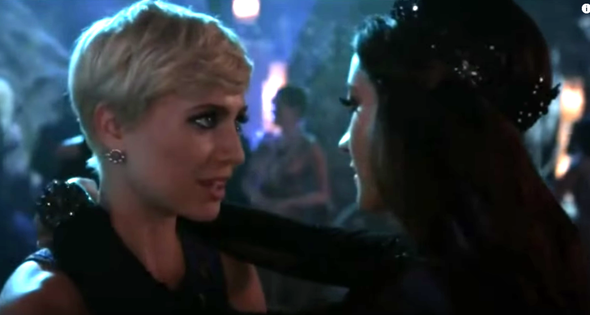 80. Rasha and Zoe…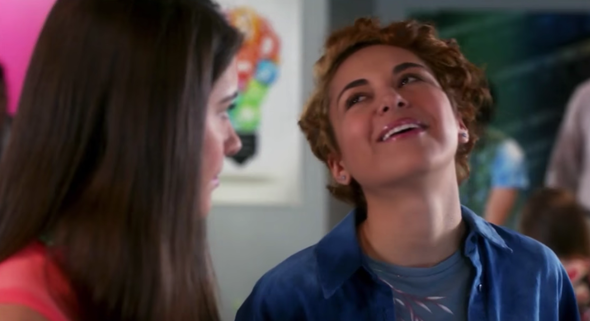 81. Tara and Pam…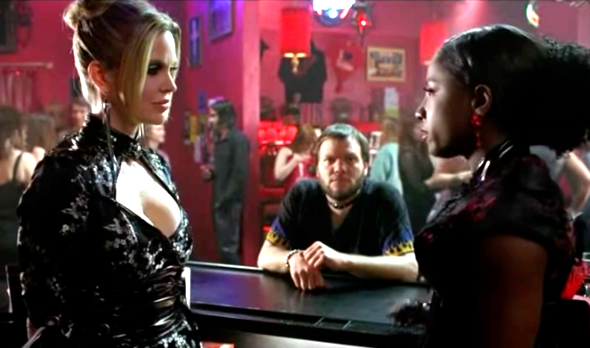 82. Spencer and Ashley…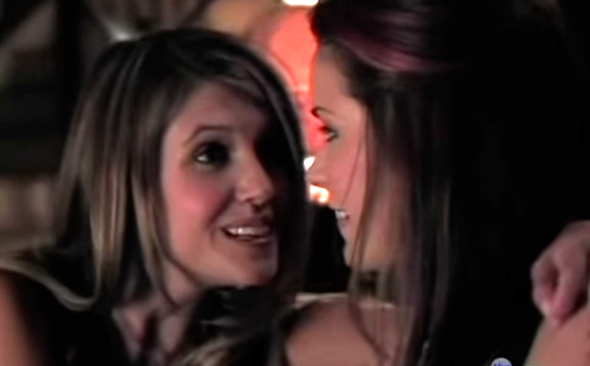 83. Jack and Imogen…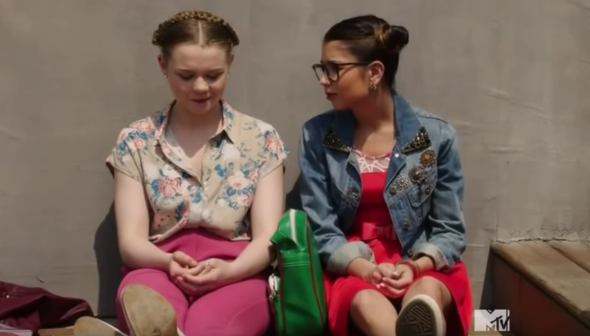 84. Throwback to Tara and Willow…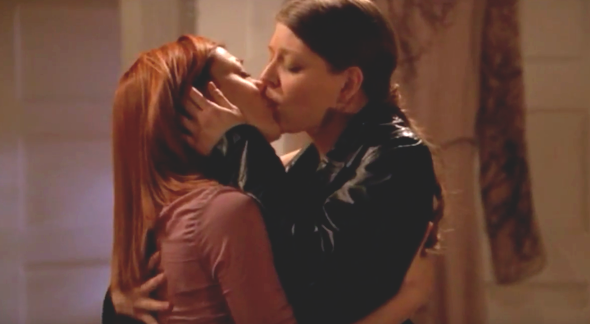 85. Alice and Tasha…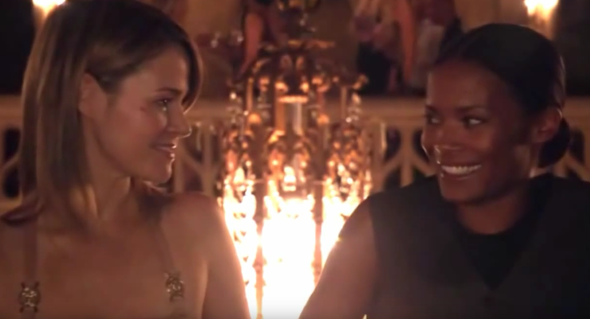 86. Papi and Alice…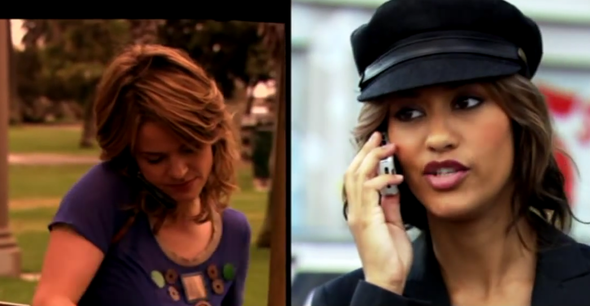 87. Jess and Naomi…
88. Kalinda and Lana.
Kalinda is my favorite bisexual on TV. The reason: Her attraction to women is actually believable. You can feel the heat.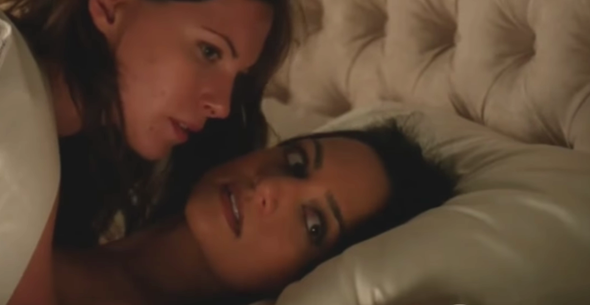 89. Nova and Chantal…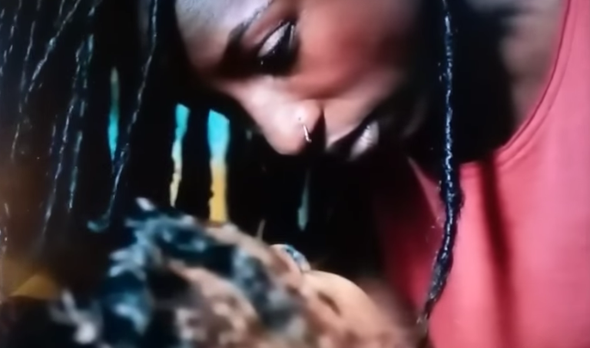 90. Linda and Gina…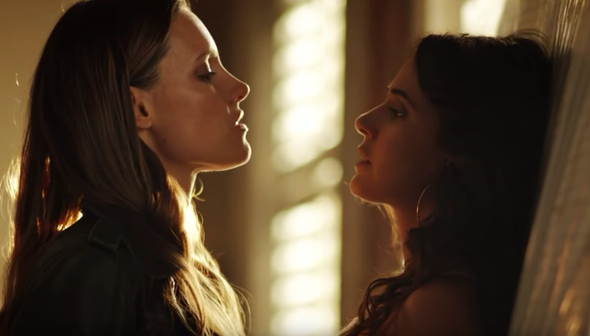 91. Emma and Izzy…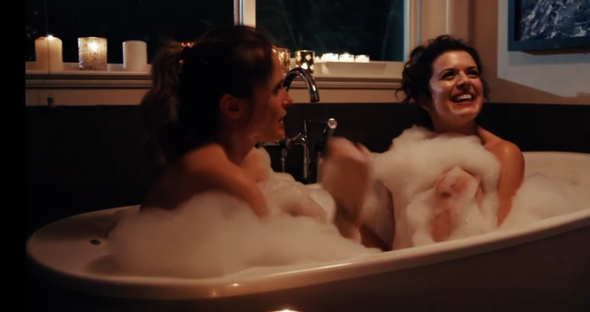 92. Annalise and Eve…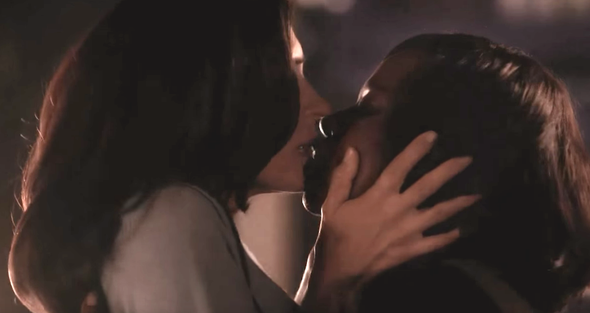 93. Bette and Candace…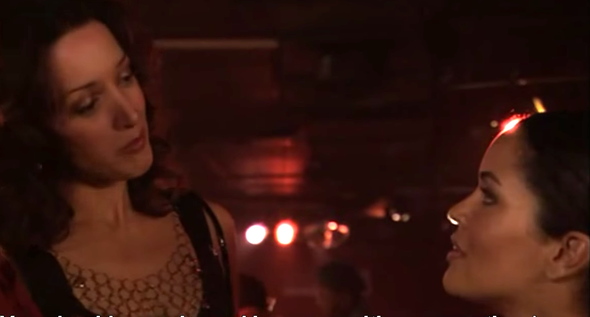 94. Max and Eleanor…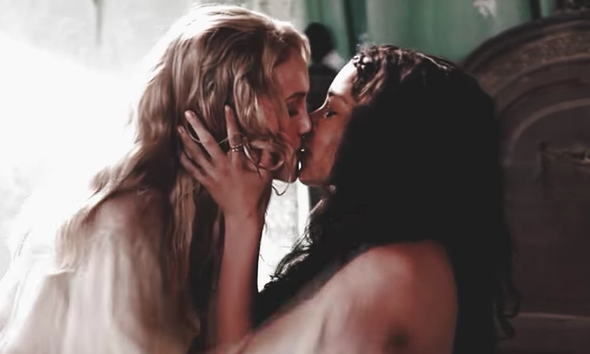 95. Astrid And Niska…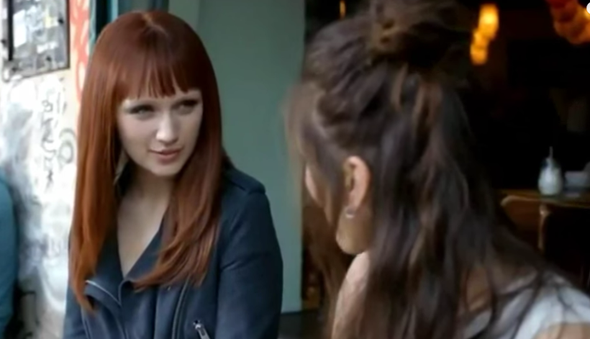 96. Betty and Veronica.
Not a couple (yet;). Just the one kiss and some flirting. But this is a list of "pairings" so here they are!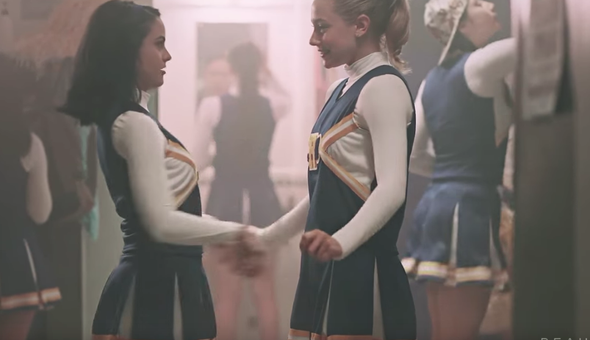 97. Jean and Sydney…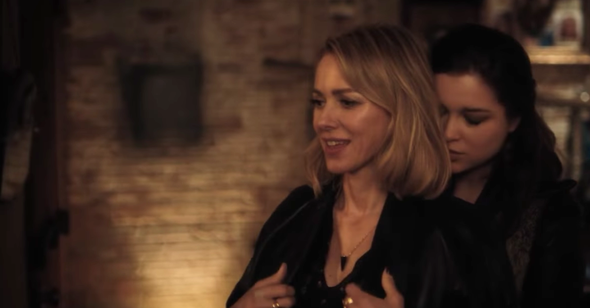 98. Robyn and Katherine…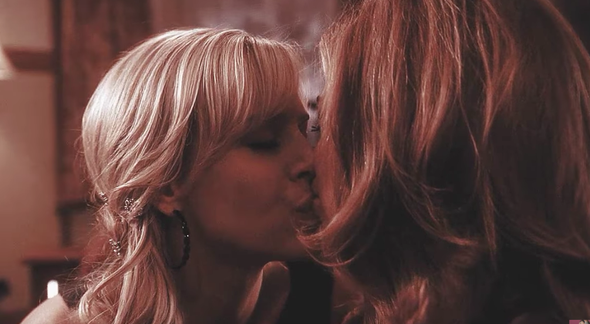 99. Alice and Dana…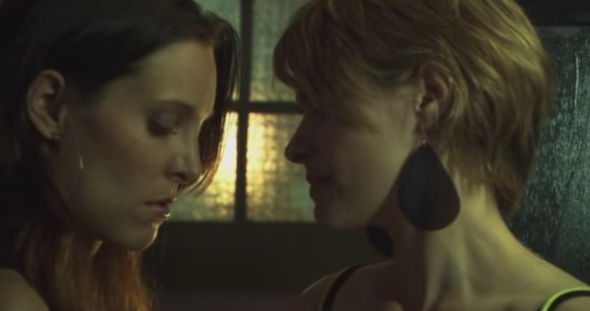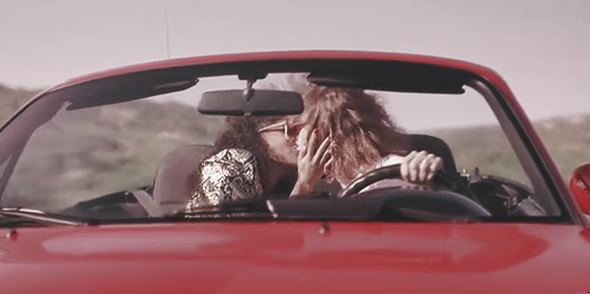 That's 100— And I could go on, but hopefully by now you get the picture.
Here's the teeny-tiny list of five…
…Five (5) main characters that are either andro-adjacent or butch. In fact, it's such a short list, that I'm going to embellish it with extra screenshots and some fun facts.
Shane is 1-of-2 lead andro-adjacent TV characters in a mainstream show (LWord). They dabbed her with lip gloss and gave her smokey eyeshadow— You know, because all women MUST have some stereotypical 'feminine' indicator. Shane, played by actress Katherine Moennig, is the only lesbian TV character who has ever reached her particular level of lez-super-stardom. She's our lesbian anthem. The sex symbol heard 'round the world. You would think mainstream TV might've taken the hint. But no. Sadly, they did not.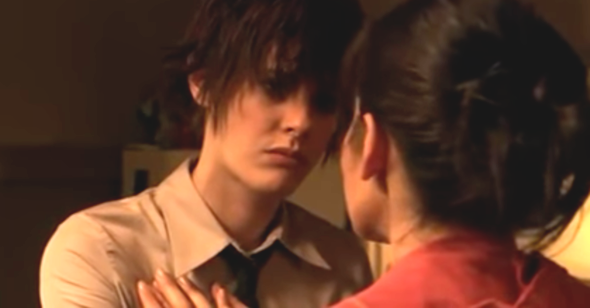 Unfortunately, Moennig was scripted to play yet another typical mainstream pliable 'lesbian.' The writers made her character into a gay man's fetish— When Shane revealed a past of prostituting herself to gay men, millions of lesbians rolled their eyes at home. Baby butches cried out in the night. And I'll let this belly-button revealing corset speak for itself. However, as far as casting goes, they hit the nail on the head with Moennig… because Shane put out an unprecedented level of on-screen heat.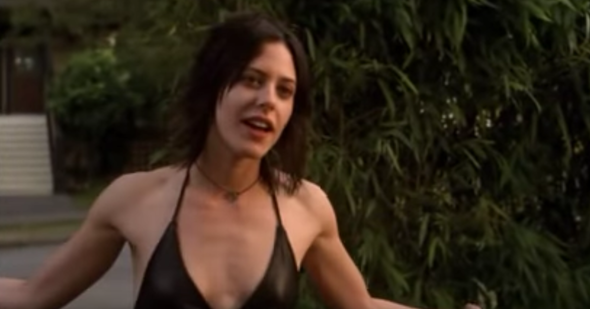 2. Moira
The L Word finally gave us our first ever butch lesbian main character on a mainstream show. Daniela Sea isn't a butch lesbian in real life, but she played one on TV. And we were over the moon. It had finally happened. It. Had. Finally. Happened.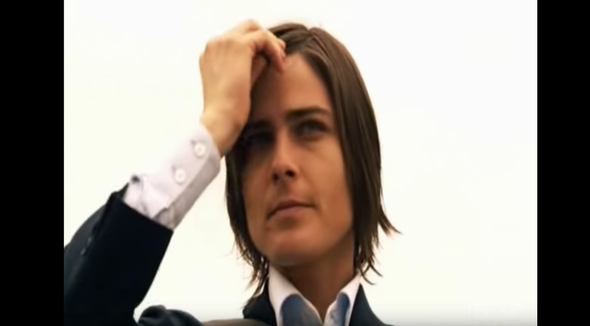 …But then Moira became Max and began sleeping with gay men. In a recent People Entertainment video— where The L Word cast reunites to discuss a reboot— they sum up why the only butch character, Moira, becomes Max— "Moira kind of doesn't really fit with the rest of the group… she's not a girly–girl."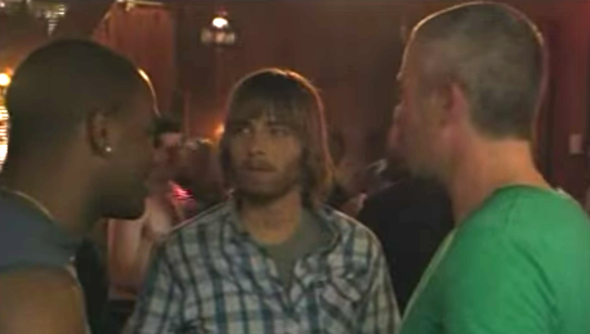 So scratch that… The second spot is open. We'll give it to Poussey— Yes, that's the punchline of a name they gave her on OITNB…
2. Poussey is the other somewhat-andro lead character to make it onto a mainstream show…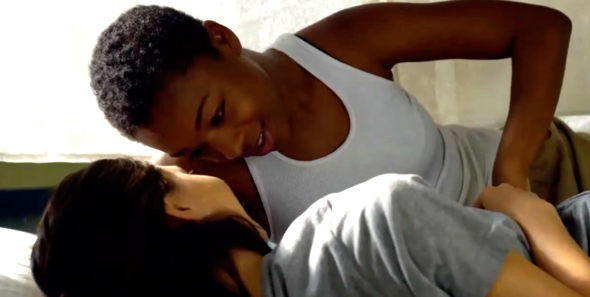 …But not really, because she's arguably not andro. The flashbacks show her 'femmed' up. Butch isn't a performance and it isn't a phase… No, great-grandma, it's not a matter of finding the right shade of lipstick or discovering the perfect dress someday. But we'll keep Poussay on the tiny andro list any way, since andro lesbians get no representation. Us lesbians take what we can get. (spoiler alert)….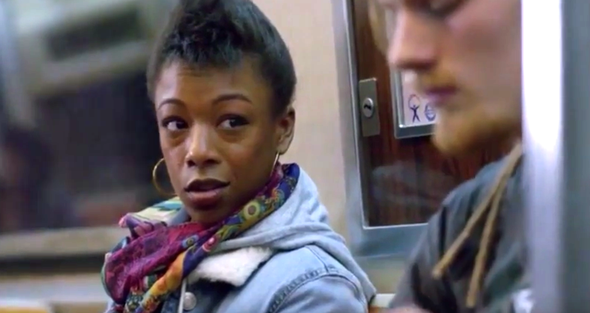 Poussey quickly became a les-crowd favorite, so they killed her off in the mean-spirited media game of "Bury your Gays." Fun fact: Poussey is played by actress Samira Wiley, who married Lauren Morelli (a writer and producer for OITNB) in a 2017 fairy tale wedding. Too cute not to share.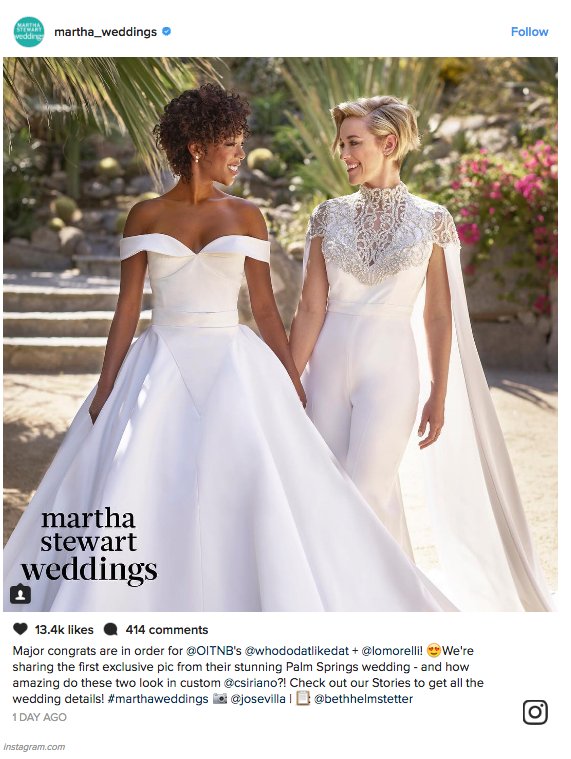 3. Stella
The role of Stella was played by actress Ruby Rose, who perfected the butch-andro swag for this brief role on a mainstream show. She caused a stir. And then she was gone. And we were all sad.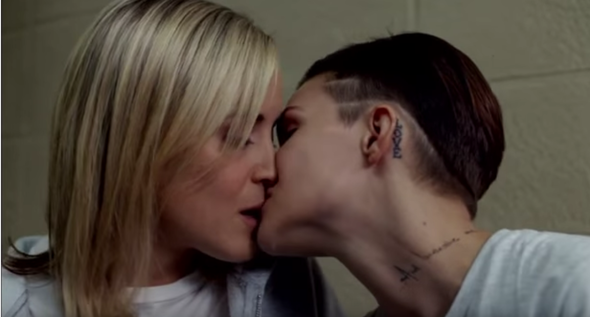 Stella won our hearts on OITNB… And in real-life, actress Ruby Rose recently won the heart of Jess Origliasso from The Veronicas. And (in case you don't already know) she loves to switch up her look and challenge stereotypes.
4. Corkey
In the movie Bound, Corkey is played by Gina Gerson, who isn't a lesbian and isn't butch, but you can tell she takes her craft seriously and definitely did her homework.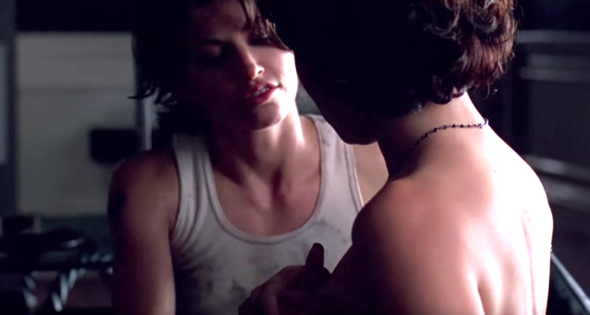 Fun fact: Gina Gershon has a new thriller out this year called Inconceivable… and I'm so there!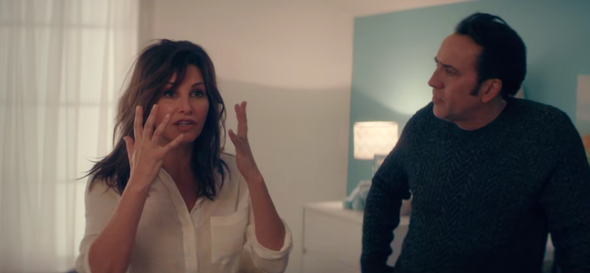 5. Big Boo
It's 2017 and Lea DeLaria is still the only butch lesbian actress to ever land a featured role on a mainstream show. She was on OITNB. In an interview, "What Not to Love," she talks about her disappointment with the ongoing media caricature of a 'butch lesbian.' She should know… She's been playing the media's butch punching bag since the 90's. She used comedy and food as an escape— "There's this thing inside your head, when you get home like at the end of your day and you walk into your apartment and you close the door and… there's a part of you that goes, 'phew. Made it. Nobody beat me up, nobody called me a dyke on the street. Today was a good day."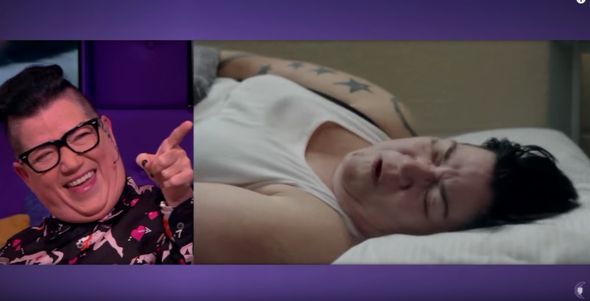 Well, my dear lesbians, the mainstream media has a severe butch-phobia problem, and they've perpetuated a dehumanizing brand of homophobia targeting lesbians that has real-life consequences. It's not only sanctioned, it's encouraged. As for the girls and women who don't check off the "pink is for girls" box, the non-stop psychological warfare is only getting worse… and it's left many a lesbian with some really deep scars.
---
Julia Diana Robertson is an award-winning author and journalist. You can find her at www.juliadianarobertson.com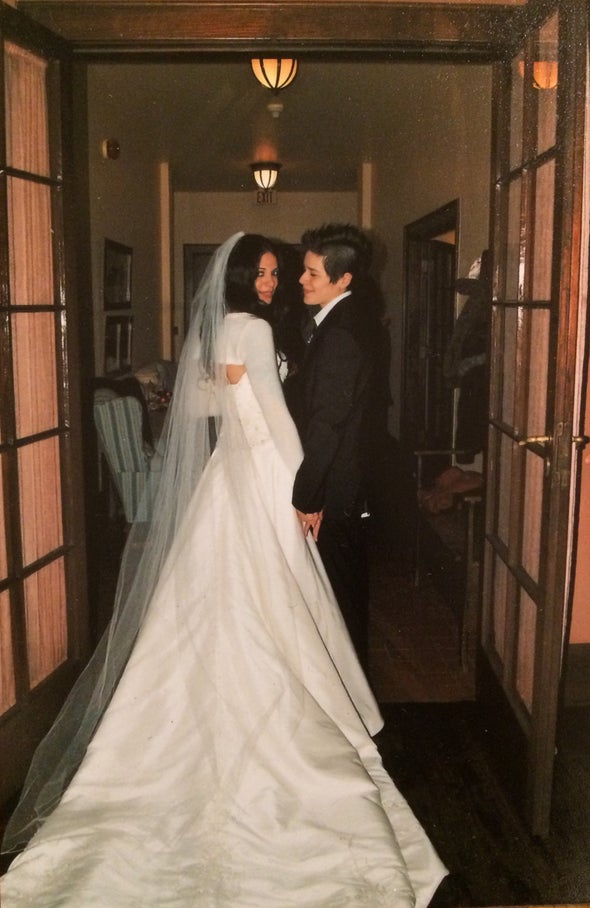 This article is dedicated to my beautiful inside and out wife, Claudia Lucas—The epitome of female beauty wrapped in a Hugo Boss suit. © JLI Photography