Earlier today in DC, dozens of rioters stormed the Capitol building, breaking in through windows and balconies, as electoral votes were being counted. Tear gas and percussion grenades were used by police to regain control.
According to spokeswoman Alaina Gertz, a woman who was shot around 3pm, has died. The woman, according to KUSI-TV in San Diego, was Ashli Babbitt, a 14-year veteran of the Air Force, and Trump supporter. In her Twitter bio, she lists her political affiliation as "Libertarian." A witness, identified as Thomas Bourani from New Jersey, said the young woman "didn't heed the call" when police yelled for the mob of rioters to get back, and "they shot her in the neck."
Bourani said, "We tore through the scaffolding…through flash-bangs and tear gas…just trying to get into congress… and tell them that we need some kind of investigation into this." He adds, "This cannot stand anymore… They don't represent anyone, Not Republican, Democrat, Independent, nobody, and now they'll just kill people… They don't care… they think we're a joke… It was a joke to them until we got inside and then all of a sudden guns came out."
Trigger Warning: A video of the moment Babbitt is shot, has been posted on Facebook, restricted due to graphic content. It shows Babbitt (from the back, never facing the camera) in a loud chaotic crowd of enforcement and protesters, in what appears to be a wide stairwell. She's climbing upward, trying to pass through an open window, to the right of a wood-framed, glass window double door. She's only filmed for about a second, then a man's voice calls, "Oh. Let's get down," mixed in with a jumble of voices, and in the next second, she's shot in the back, instantly dropping to the ground. Ashli Babbitt is then filmed from above as she's dying.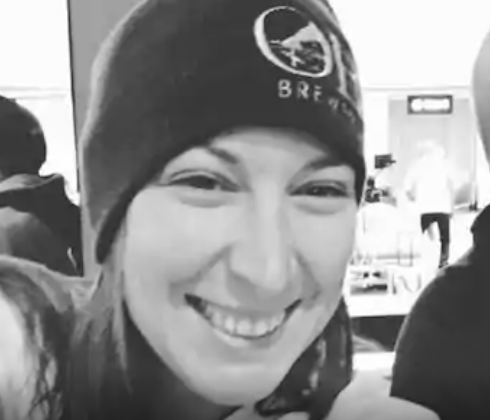 13 people were arrested this afternoon, and at 6 pm, a curfew was put in place, after police, in riot gear, secured the premises.
At a rally earlier today, before the Capitol building was stormed, Trump gave a speech. Many are alleging that in this speech, the President instigated the riot.
House Speaker Nancy Pelosi called the riot "a shameful assault" on democracy, and said the counting of Electoral College votes would continue this evening to certify Joe Biden as the next US President. BBC reports, "plenty of Republicans continue to object" to the election results, however there are "senior Republicans now defying Trump."
Pelosi, who made headlines this first week of January — after proposing a ban on words that aren't "gender inclusive," such as "father" and "mother," in House Rules — blamed Trump for the riot. In a letter to House colleagues, she said, "We now will be part of history, as such a shameful picture of our country was put out to the world, instigated at the highest level."
Twitter has temporarily suspended the President from Twitter for three tweets he wrote regarding the incident, threatening to suspend him permanently should he continue to post tweets that they feel are harmful.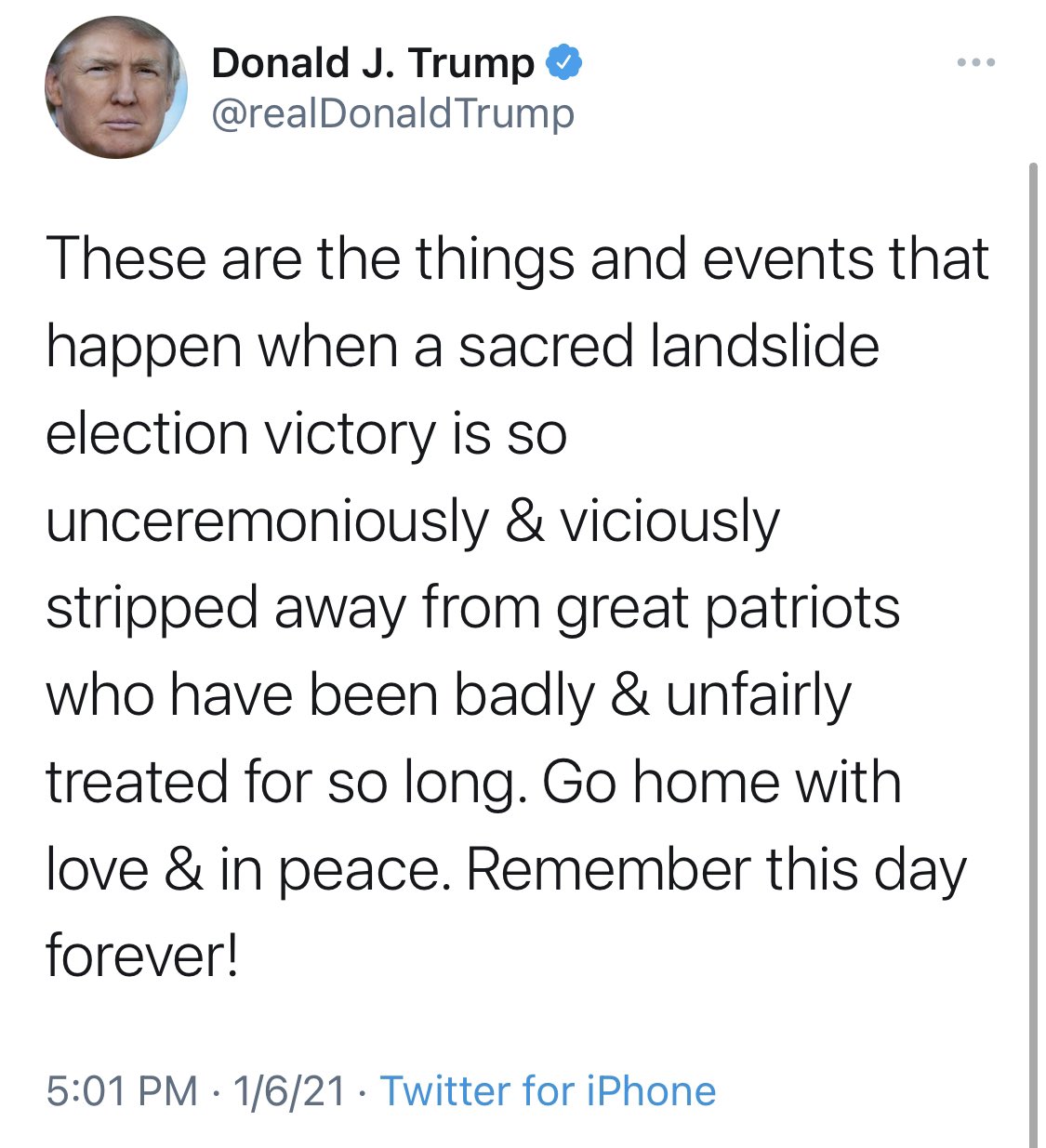 One such tweet, now censored, reads, "These are the things and events that happen when a sacred landslide election victory is so unceremoniously & viciously stripped away from great patriots who have been badly & unfairly treated for so long. Go home with love & in peace. Remember this day forever."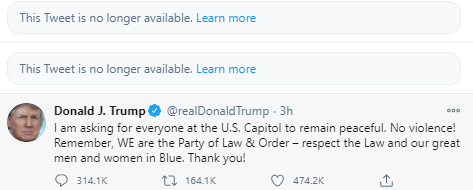 At 7:02 pm EST, Twitter posted the following explanation: "As a result of the unprecedented and ongoing violent situation in Washington, D.C., we have required the removal of three @realDonaldTrump Tweets that were posted earlier today for repeated and severe violations of our Civic Integrity policy… If the Tweets are not removed, the account will remain locked. Future violations of the Twitter Rules… will result in permanent suspension of the @realDonaldTrump account."
Facebook is also freezing the President's page. Facebook's PR team says they've "assessed two policy violations" and the President "will lose the ability to post on the platform" for 24 hours.
If the first week in January is any indication of the year to come, buckle up.
This a developing story. Please check back for updates
---
Update, 1-9-21:
Media has reported on three people that, according to police, died of "medical emergencies" during the riot. "One adult female and two adult males appear to have suffered from separate medical emergencies, which resulted in their deaths," Metro Police Chief Contee said. "They were identified as Benjamin Philips, 50, of Ringtown, Pennsylvania; Kevin Greeson, 55, of Athens, Alabama; and Rosanne Boyland, 34, of Kennesaw, Georgia. The three were on the grounds of the Capitol when they experienced their medical emergencies," said Contee.
Greeson, survived by his wife and children, was a Trump supporter. According to his family, he had a history of high blood pressure and died of a heart attack. In a statement to CNN, Greeson's family described him as "a wonderful father and husband who loved life."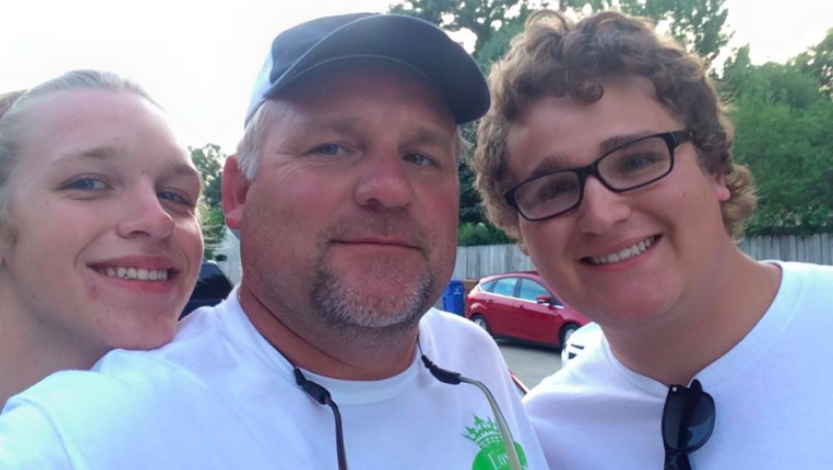 WGCL reports that Boyland's family doesn't yet know exactly how she died. She was an avid Trump supporter, described by a family member as "a wonderful sister, daughter, and aunt. Anyone who knew her knows how compassionate she was. She always put others before herself." NBC news reports Boyland "died because of a medical emergency" at around 5pm, according to authorities that provided them with "no further details."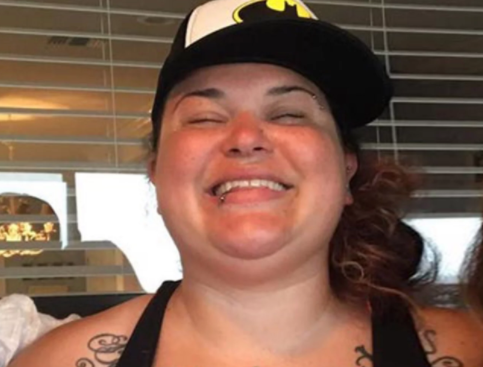 The Philadelphia Inquirer reports that Philips, founder of the site Trumparoo.com, died of a stroke. In a statement to NBC, his ex-wife, Nicole Mun, said, her "children are grieving" and trying to process his death.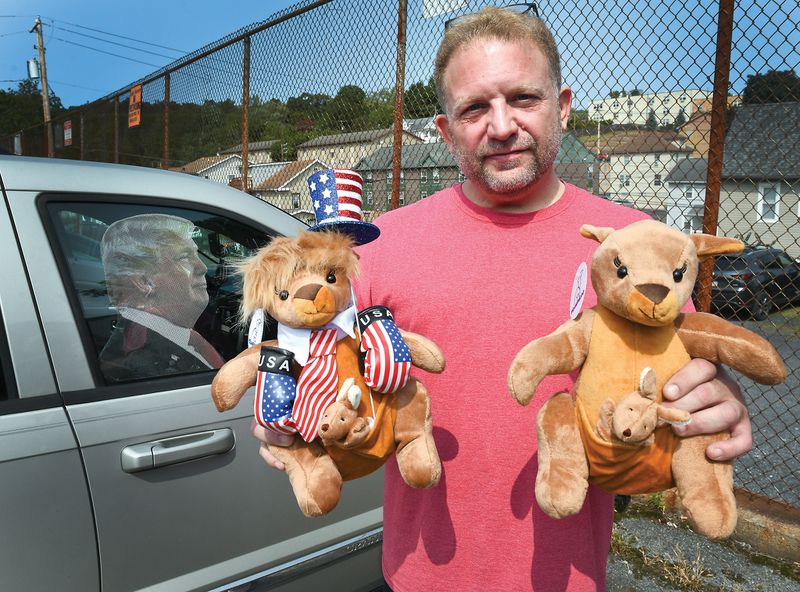 On Friday, Jan 8, Twitter permanently suspended the President's account, alleging he used the account "to incite violence." They wrote, "After close review of recent Tweets from the @realDonaldTrump account and the context around them we have permanently suspended the account due to the risk of further incitement of violence. In the context of horrific events this week, we made it clear on Wednesday that additional violations of the Twitter Rules would potentially result in this very course of action. Our public interest framework exists to enable the public to hear from elected officials and world leaders directly… However, we made it clear going back years that these accounts are not above our rules entirely and cannot use Twitter to incite violence…" They've also barred him from tweeting from any associated accounts.
They allege the President has glorified violence in the following two (2) tweets posted January 8:
"The 75,000,000 great American Patriots who voted for me, AMERICA FIRST, and MAKE AMERICA GREAT AGAIN, will have a GIANT VOICE long into the future. They will not be disrespected or treated unfairly in any way, shape or form!!!"
and
"To all of those who have asked, I will not be going to the Inauguration on January 20th."
Of the two tweets, Twitter writes, "After assessing the language in these Tweets against our Glorification of Violence policy, we have determined that these Tweets are in violation of the Glorification of Violence Policy and the user @realDonaldTrump should be immediately permanently suspended from the service."
On Friday, January 8, Twitter additionally deleted 3 of the President's tweets from the US government account (@POTUS, a separate account). The thread began, "As I have been saying for a long time, Twitter has gone further and further in banning free speech, and tonight, Twitter employees have coordinated with the Democrats and the Radical Left in removing my account from their platform, to silence me."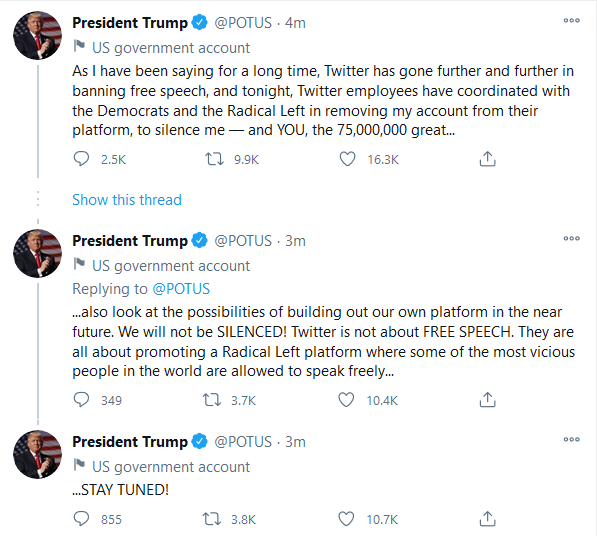 Update 1-11-21:
While the ACLU called for impeachment on Jan 10, on Jan 8 ACLU's senior legislative counsel, Kate Ruane, stated, "it should concern everyone when companies like Facebook and Twitter wield the unchecked power to remove people from platforms that have become indispensable for the speech of billions."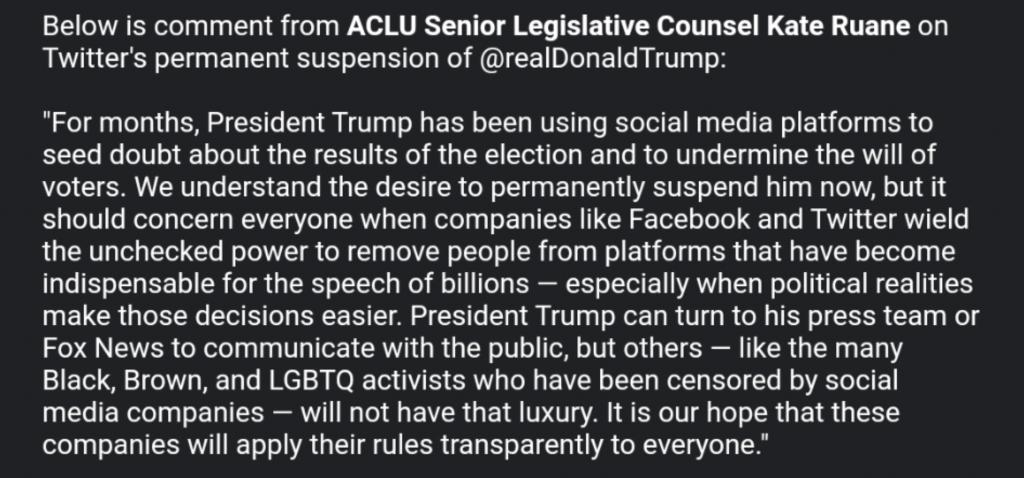 Update 1-13-21:
Twitter and Facebook have reportedly banned thousands of users that are linked to QAnon beliefs, which is described by USA today as a "conspiracy theory" based on claims that there is "a 'deep state' apparatus run by political elites, business leaders and Hollywood celebrities". In a statement, on Jan 12, Twitter said "Since Friday, more than 70,000 accounts have been suspended … These accounts were engaged in sharing harmful QAnon-associated content…"
According to USA Today, "Facebook says it has removed over 790 groups, 100 pages and 1,500 ads tied to QAnon on Facebook…. along with 10,000 accounts on Instagram, but "is not banning QAnon outright because the group does not meet 'rigorous' criteria for the platform to designate it a 'dangerous organization.'" 
---
جوليا ديانا— Julia Diana Robertson, is an award-winning author, and journalist—A first generation Arab-American, who grew up between worlds, and currently resides somewhere in the middle with a bird's eye view. Follow her on Twitter: